Journey's End - 7.20
This seventh-season espisode serves as a bookend for this first-season one, so you might want to brush up real quick on that. We can wait.
Okay, so we've got two things going on in this episode: first, the Cardassians are taking control of some planets, one of which is inhabited by some Native Americans. (That is the term that Starfleet uses. They never mention a tribe.) The Native Americans don't want to leave, the Cardassians want them to leave, and the Federation has to step in, which means this admiral rolls in: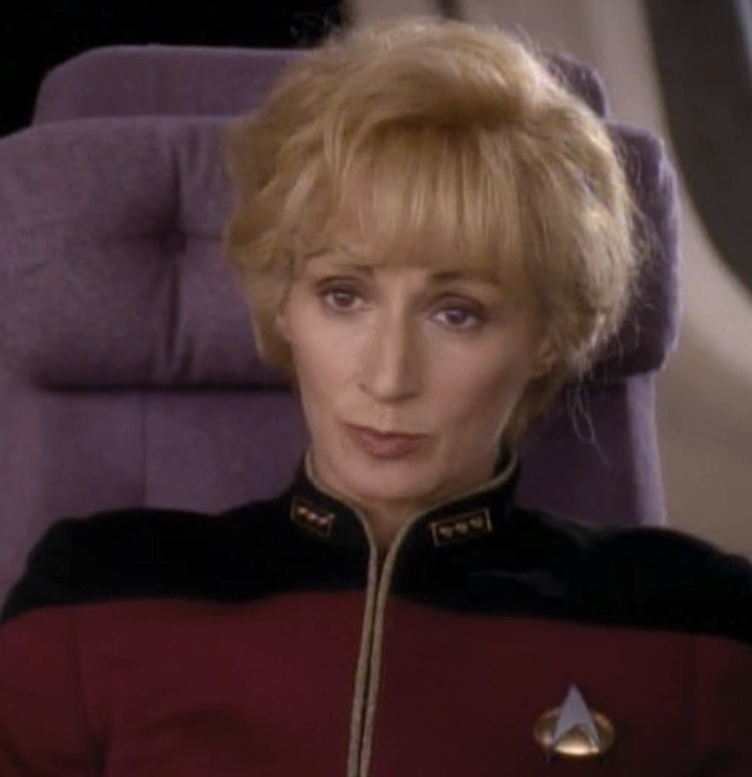 Can we get Judith Light? No? Fine
Ooooh, I love me some gold piping on a fancy uniform. And I was about to complain about her messy, 90s-be-banged updo, but after looking at it for a while, I think I like it. It could be a little more authoritative - she is an admiral, after all - but I'm not mad at it. And the back looks pretty without being too elaborate:
Chignon'd
I like how she is giving sort of a Keira Knightley Beauty Gaze in this shot. I wish that jacket was a leeeetle longer or a leeeeetle shorter, but you know what? Admirals ain't got time to worry about how a jacket that length hits her right at the widest part of her hip. She has SERIOUS THINGS to deal with, like this planet and the Cardassians and the "Native Americans" and shit.
But we'll get to the Native Americans (AND THEIR FASHIONS) in a second. The other plot is that WESLEY IS BACK, BITCHES.
I brought my own boombox
Not only is he back, but he's also got a puss on him like you wouldn't believe: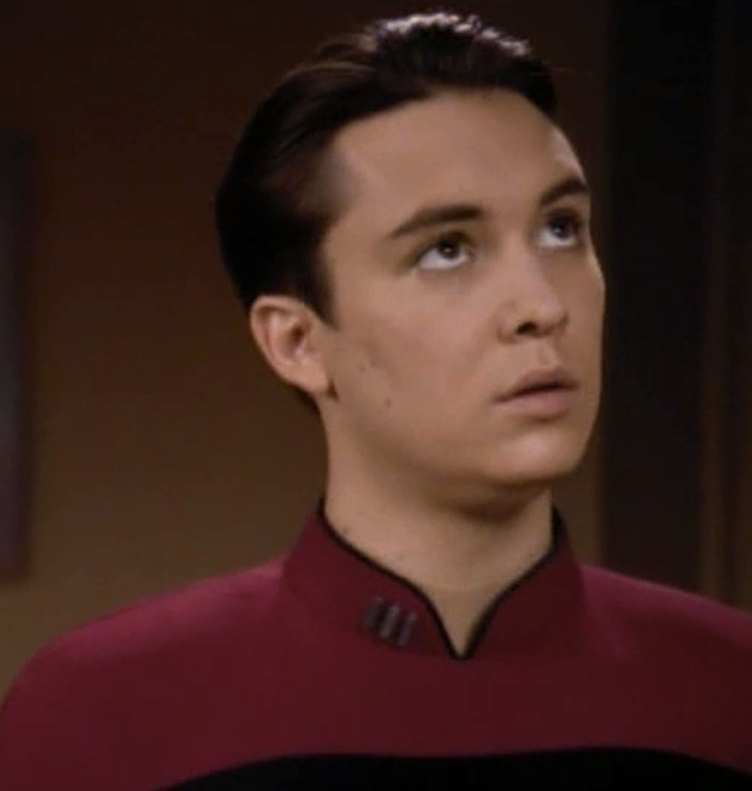 Petulance is forever
Somewhere, there is an eye-rolling class using footage of Wil Wheaton as a demonstration of perfect technique.
Wes is back from Starfleet Academy on vacay and JESUS CHRIST does he have a bad attitude. Here he is, 'tudin' all over Engineering: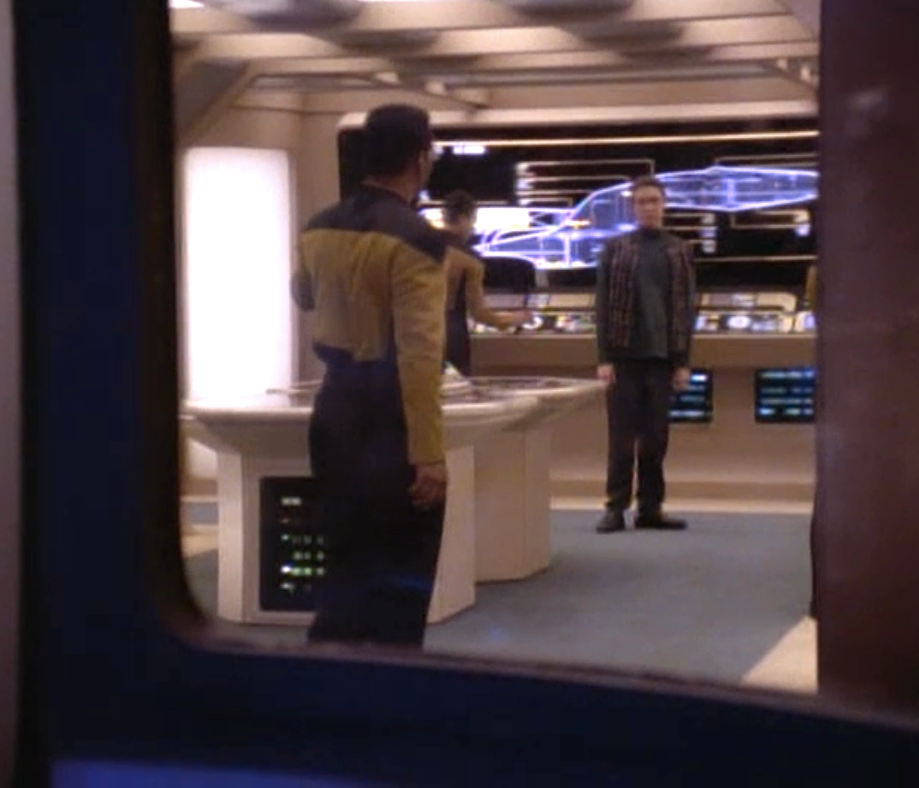 Vest/Stance of Disdain
Oh my god. What is he wearing. Look, I know Wesley has a penchant for bad, bad sweaters, but DUDE WHAT IS THAT.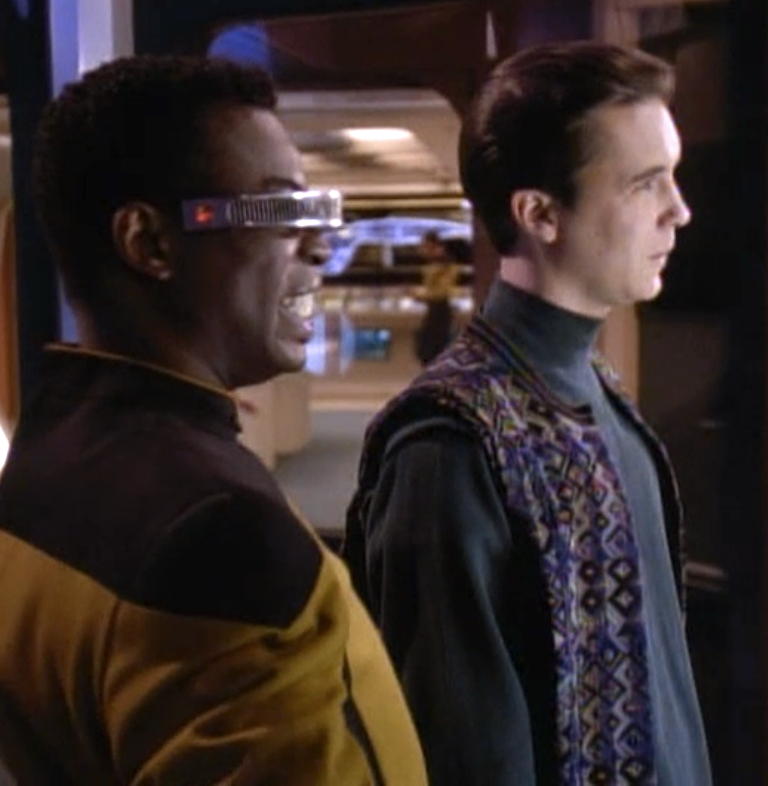 No
The sullen attitude now makes sense. How can you be anything but pissy while wearing a mock turtleneck (barf barf barf) and THAT VEST?!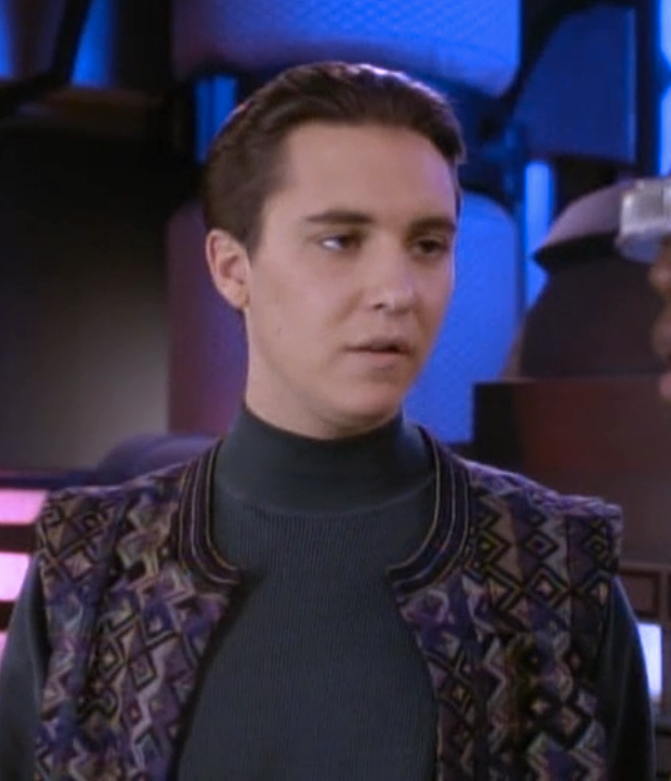 He looks as drunk as he must have been when he picked this outfit
Who thought this was okay? This vest looks like something a pastor's wife from Minnesota wears on the day of the Vikings game because she thinks it's festive but still topical, and then her sister-in-law comes over with a hotdish for the game and is like "oh for cute" and asks her where she got it and she says she MADE it but she had to buy the fabric in the upholstery section of JoAnn's. Oh, and everyone is on acid the whole time.
In any event, Wesley is back, and he has apparently not grown out of wearing the worst things.
Down on the planet, Picard is meeting with the Native Americans: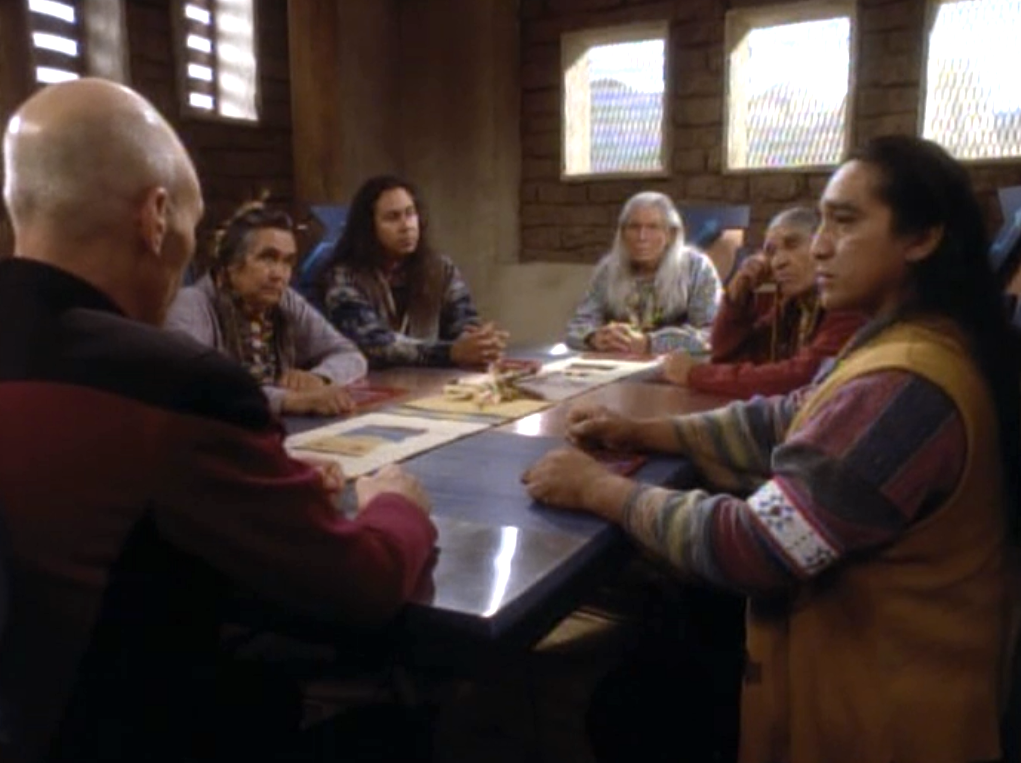 Sitting Bull Conference Center, for all your trite Native American Stereotype needs
It's worth noting here that this colony is the beginning of the people that would eventually produce Chakotay (or as I like to call him, "Chakot-haaaayyyyy"). The clothes in this scene are cool, overall, but I think I'm being swayed by the high level of print-mixing because I LOVE IT:
Storm has not aged well
The top by itself is pretty cool, but if you look closely, under his flowing tresses, you can see a CRAZY VEST just peeking out. THAT is what I am talking about, folks. None of this half-assed solid mock turtleneck foofaraw. We want full-on batshit print mixing.
Ride it, my pony (beads)
The guy on the left here is not print mixing, but I will give him a pass because LOOK AT HIS DOPE HAIRDO AND NECKLACE. Leather-wrapped braids are the bacon-wrapped hot dogs of hairstyles. You hear about it and you're like "that might be a little much" but then you experience it and you're like "NOPE, JUST ENOUGH."
Later, everyone comes up to the Enterprise for a little soiree and we get more fashions that would later be appropriated by Urban Outfitters and labeled "ethnic," as though that term means anything:
1996: Apex of the Baja Hoodie
Is he wearing a PURPLE JEGGING?! Be still my heart.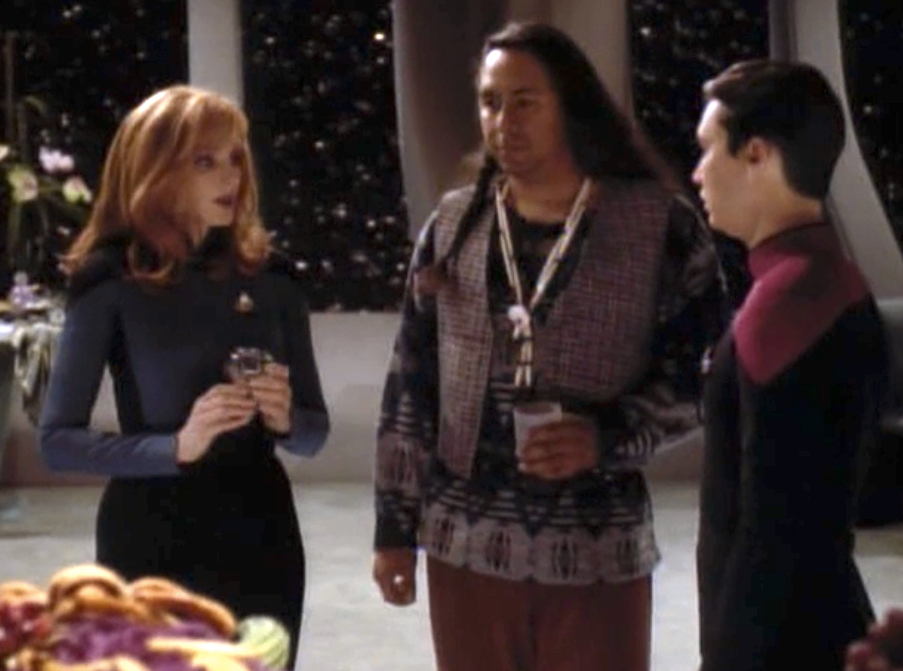 This, Wesley: this is how you do a vest
WHAT IS HAPPENING HERE. A tie-dyed green top with…burnt sienna pants? All topped with some sort of crosshatch-patterned CROPPED vest? You might be saying, "No, this outfit clashes and has way too much going on," but all I will do is  tell you all your points are invalid due to that SIDE MINI BRAID.
Wesley is at the party, continuing to be on his period, and chats a little bit with this guy:
John Cusack Hair Club for Men
I felt a little bad for this guy at first since he doesn't get the long, luxuriant hair of his compatriots, but then he turned around:
Business in front, etc.
Plus he has some sort of bunny-tail necklace, which I bet is soft. AND these purple sleeves:
My wrists get really coollllldddd, okayyyyy
So he and Wes chat a bit and he basically is like "maybe you should go on a vision quest." Before that can happen, though, the fucking Cardassians have to come look around:
His marriage lasted 72 days, then he fought his wife to the death
The Cardassians, like the Romulans, are generally antagonistic and warrior-like, and their clothes reflect that. Utilitarian and oddly ridged, just like their faces.
Meanwhile, Wesley is into the idea of the vision quest, so he shows up where Purple Sleeves told him to:
Buh, forever and always
Purple Sleeves is like "oh hey. Welcome to my home that I decorated to look like a terrifying version of It's a Small World."
World of laughter? No…world of tears
I actually think the art department just printed a bunch of clip art real big and glued it to some wood for this room.
So Purple Sleeves starts a Vision Fire for Wes and leaves him to get high:
Everybody must get stoned
Wes has a great time on the vision quest, and sees his dad, Captain Forehead: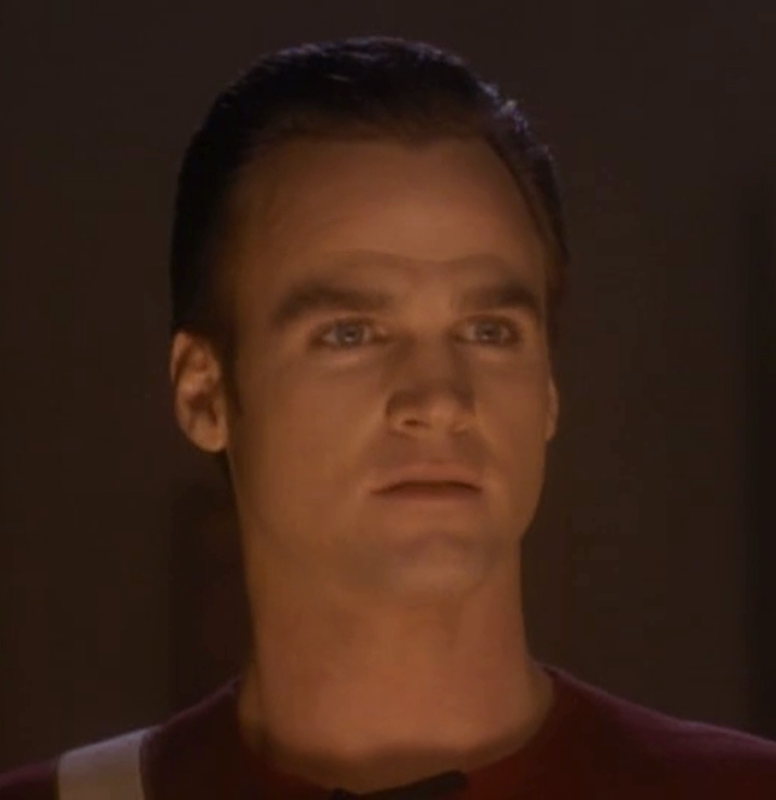 I'd buy a big prosthetic forehead and wear it on my real head
His dad is like "you will soon start on a new path" and "you want to eat, like, a whole bag of Cheetos."
Meanwhile, outside the Vision Hut, the Cardassians are all up on this planet way earlier than they are supposed to be: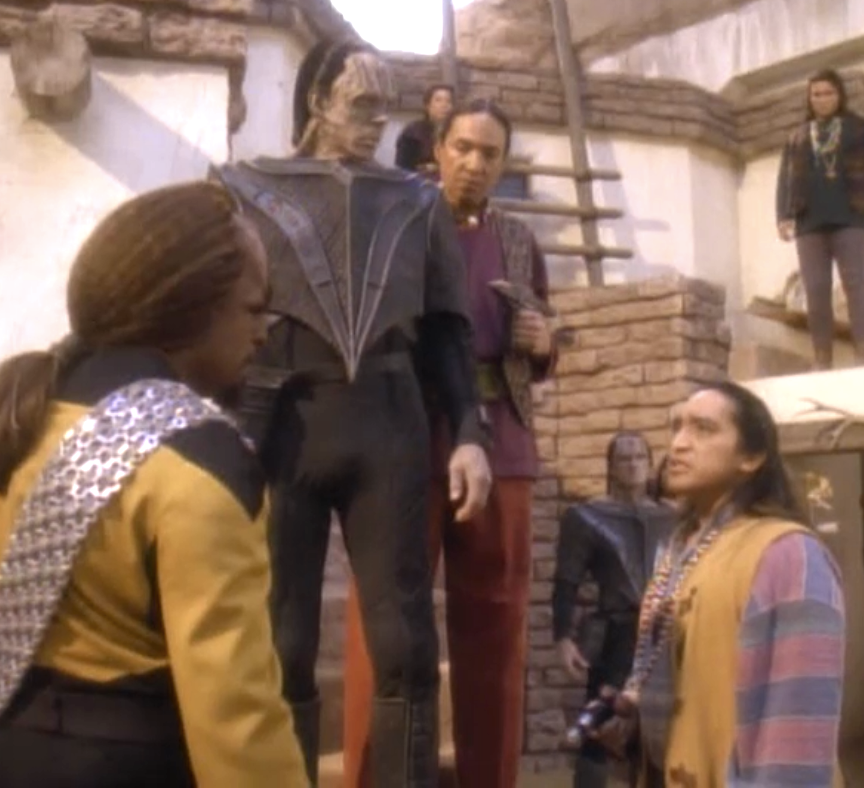 What Would Brian Boitano Do (Answer: wear this…fabulously)
The tightness of the Cardassians' pants, as well as their imperial leanings, cause a great deal of anxiety among the amazingly-attired inhabitants:
MORE NECKLACES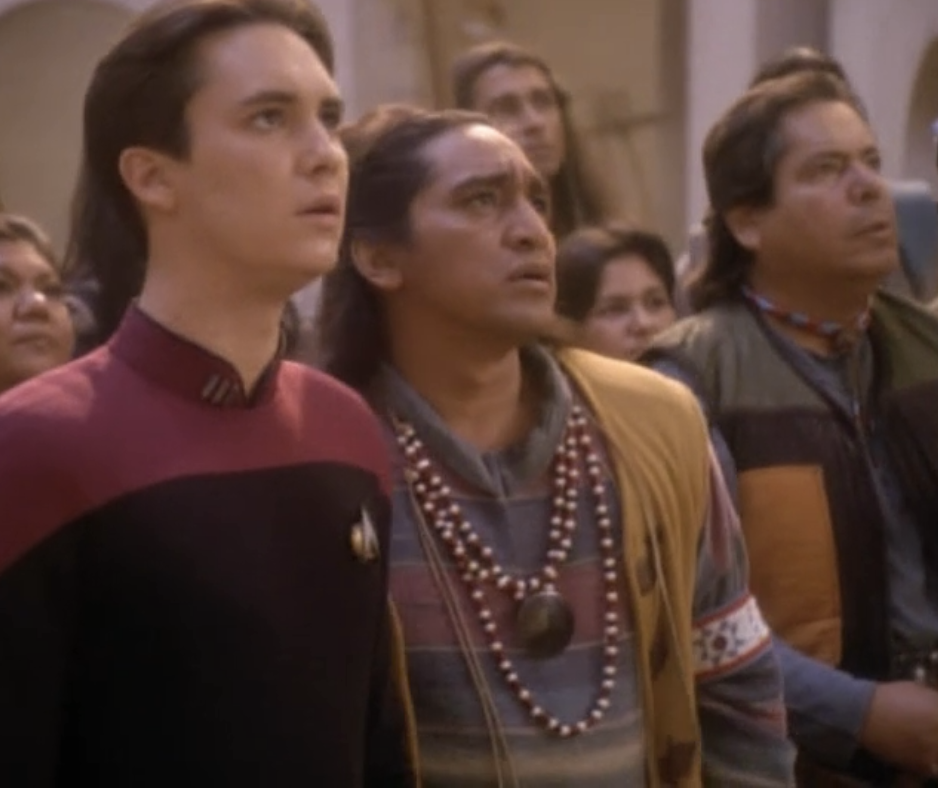 I legitimately want that colorblocked vest on the right there
Fly girl (GET IT BECAUSE SHE HAS A CAPE)
Then shit gets real, because Starfleet needs to relocate the Native Americans (since the planet is now Cardassian territory), and the Native Americans won't go, so Worf is SECRETLY relocating them, and then Wesley is like "you better stop that" and Picard is like "if you're in Starfleet you better follow orders" and Wesley is like "FUCK YOU YOU'RE NOT MY DAD, MY DAD HAS HAIR." That last part, not really. But he does resign from Starfleet!! While wearing the only outfit that could compete with his earlier vest outfit for sheer midwestern-mom lunacy: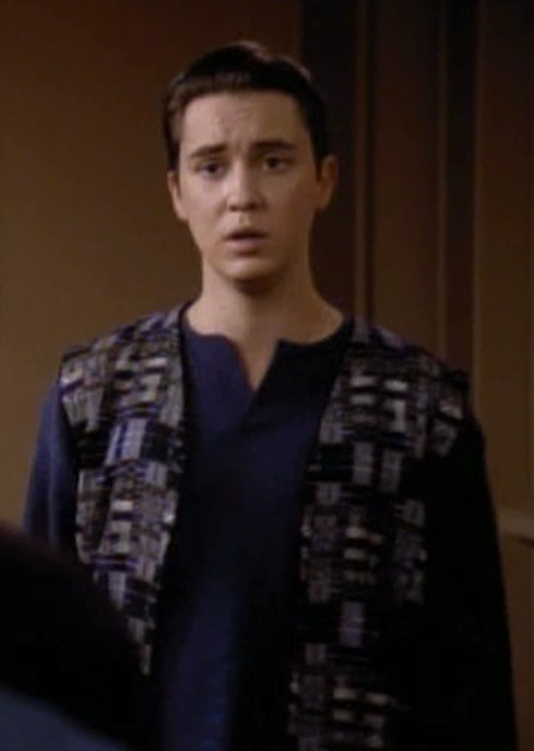 Eggplant prophet
Thank god he switched out the mock turtleneck for a cult-leader top in a deep purple, but again with the print! This is more of a Baltimore Ravens color scheme than a Vikings one, but the pattern just screams Lutheran church picnic.
Meanwhile, on the planet, a full-on firefight has broken out, and Wesley is like "I wish I could stop it!" and all of a sudden, everything FREEZES and his Spirit Guide Purple Sleeves turns into: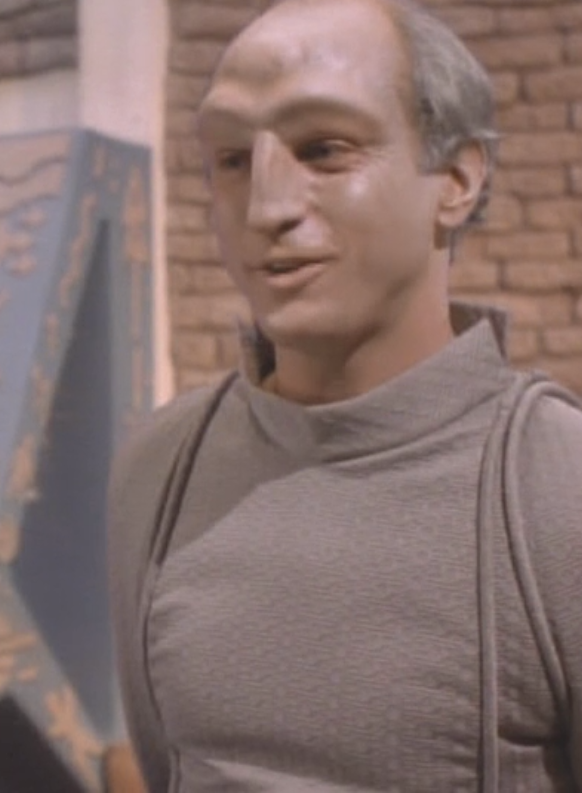 There's just a lot of forehead in this episode, son
The traveler! Did you revisit this episode like I told you? Go! Do it! He wears the best jumpsuit ever in it! He's toned down his look a little, but he's still working a one-piece: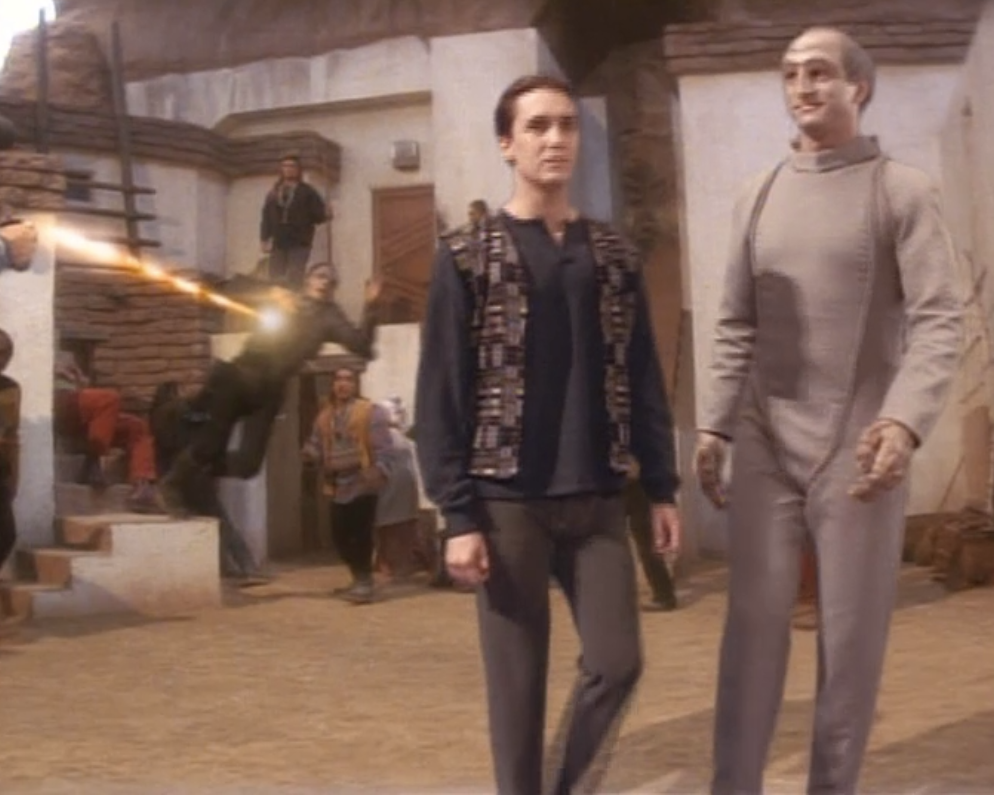 Just a lot of bad crotch situations
Wesley. The vest is one of Thrift Store Jesus' most wondrous inventions. I mean, look at this. I hate Bradley Cooper. I think he is the gold standard of doucheface and I think he robbed Ryan Gosling of the Sexiest Man Alive title. But in a vest? NOT MAD AT IT. (Side note: HOLY FUCKING JESUS whoever compiled this is an ANGEL SENT FROM HEAVEN. I mean Alan Tudyk is there. And Ianto. STOP THE MADNESS.)
All this is to say: you are giving vests a bad name, Crusher. Get back in a jumpsuit where you belong.
This guy, however, can do whatever the fuck he wants: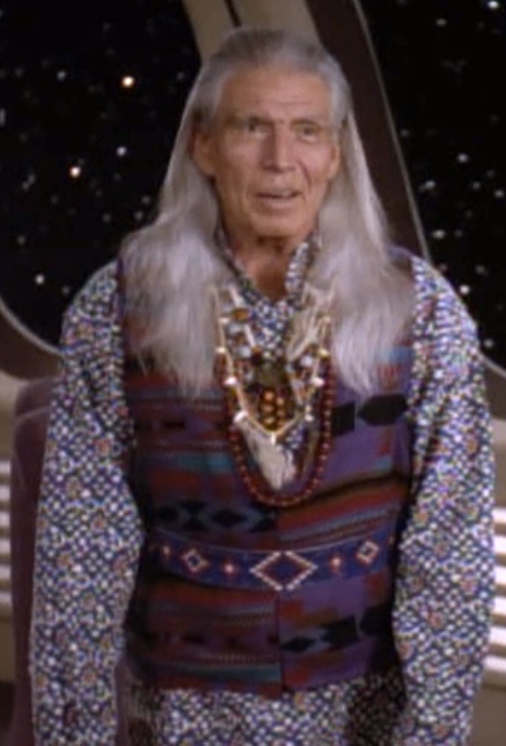 Fuck you, I'm awesome
Wesley looks like he's running a youth group that encourages creepy behavior. This guy looks like he's running a drug ring, a circus, or a store that sells craft supplies and also motor oil which would be AWESOME. How they can both be wearing vests and give off such different vibes is one of the mysteries of the universe. Hopefully on his journeys, Wesley will learn the answer to that mystery.
Everything ends up all right, with the Native Americans staying put, the Cardassians agreeing to be relatively cool to them, and Wesley running off with his boyfriend to travel on different planes of existence. Good luck, young Crusher, and get some new fucking clothes.
I will
Standard Wesley Crusher is Not Wil Wheaton disclaimer: we actually love Wil Wheaton (especially when he was on The Guild) and all our mocking of Wesley is heartfelt. If you wanted to tweet this at him, we would not be mad at that.
thiefree reblogged this from sttngfashion and added:

I hope with every bone in my body that Wil finds this. I do.