Second Chances - 6.24
Special thanks to Twitter fan @sarahdal for suggesting this ep! I knew it would be a good one when I saw Anna's reply. This was one of those plots that I'd remembered from my TNG syndication days in San Francisco (thanks, KBHK 44!) when our babysitter Cara Goldberg pointed out that with the fancy new speakers my parents hooked up to the TV, the Enterprise's engines would sound EVEN BETTER. (Incidentally, in case anyone is looking for it, someone posted to YouTube 24 hours of continuous Enterprise engine background noise.)
As Sarah mentioned in her follow-up Tweet, most of the best fashions are right at the beginning of the episode, so let's get to it.
Watch out, she's color-blocking the exits.
Shoulder pads? Check. Random tight v-neck? Check. Something strange going on in the torso undergarments department? Check. Now let's just throw on some black tights and witch shoes and call it an outfit. DONE.
Actually, what really impressed me was her hairstyle. You know what, let's stick a pin in it (can't, hair's too short) for now. I will say, I like that this actress is working the Ten Forward carpet. A PLACE TO SEE AND BE SEEN, AMIRITE? 
Unfortunately, the next few screengrabs are from panning shots, which is the nemesis of streaming content, but we'll make do.
Wait a second… are you a leaf on the wind?
Probably not, but this guy seems really intense. I like the collarless shirt, but unfortunately I can't take any garment seriously when the best way to describe its color is "sunbleached gak."
In space, no one can wear patterned fabrics.
This lady actually is kind of working it out in a great way. The color of her dress works great with her skin, the shoulder pads are subtle and give some good shape to the top, the waist and hips are flattering and curvy. She even went and got her hairs did. I can't quite tell what that gold thing is, but I think I kind of hope it's an accessory and not something built in to the outfit. Like a weird giant necklace or brooch. I feel like Nina would probably take off points for the bunching sleeves, but we can't be too picky.
This color combination brought to you by MasterCard. Or maybe it's a joint venture between Heinz and French's.
We've actually seen this outfit in red before (this is one of the side effects of having a Star Trek Fashion Blog—you start recognizing recurring outfits on the extras) but what we haven't seen is this strange mom-bouffant that the lady in red is sporting. That yellow thing the dude is wearing is awful, but I suppose it might be some sort of coverall that he's worn straight from work… I kind of wish he was in a Cosby sweater though.
But it's not just nobodys who have dressed up, oh no! Who's holding up the other end of the bar?
Hey, ladies.
Looks like mixing and matching fabrics is only for senior officers. I like the cut of what Beverly is wearing, but I'm pretty sure that color is usually only found in hairballs. It's especially too bad because if you take a closer look at the rest of her outfit, you'll see that it's MAROON HAREM PANTS, which not only look classy, but look luxuriously comfortable (I assume that they're made out of velour, but I suppose if they're haremmy enough, it doesn't matter). 
Deanna, on the other hand, definitely has cornered the market on colors, but what is the cut of that dress? The wide strap and square neckline make it look like something out of OshKosh's formalwear collection. I know we remark on Troi's ta-ta's a lot on this blog, but that's because we like them, admire them, even. I feel like the girls are suffocating in there. Anna has a pair of those tights, though, so we know they good.
But why are all these dapper people here? Surely this isn't your average Happy 1700 Hours? Also, what was up with that first lady's haircut?
Ladies and Gentleman: Will Riker and his Band of Lesbians!
I actually like this concept so much that I'm going to try and propagate this idea throughout the internets. Someone who knows how to edit wikipedia: go to the episode page and put in that Riker is backed by a dyke-exclusive group and let's see how long it is before some do-gooder trekkie corrects it! Okay, maybe saying it out loud it's less fun than it sounded in my head. But let's check out those outfits.
I want to start with the bassist, because she's rocking a kind of Sheila Broflovski look, or at least, Sheila's hip sister who "moved to Portland, and has been asking to bring her 'friend' Astrid home for Passover." There's something really honest about a black skirt that says, "LOOK, I GOT SOME HIPS", and I'm going to go out on a limb and say that she's got the most comfortable undercarriage up there.
Her keyboardist bandmate, meanwhile, looks like she wasn't quite weird enough to make it as the Mos Eisley Cantina—a little too "Pure Moods" for that crowd. That shirt looks like it was part of the interior design scheme for a nineties restaurant that would have been called "Pietro's" or "Dimensions" or something horrible like that. Plus, I think we all agree that a baggy sleeve—and somehow that it seems worse that it's a baggy pomegranate sleeve—isn't ideal for a piano player to wear.
We can't really see the drummer, so I'm just going to assume a lesbian with red pants.
But the important question, the one you're all here for me to answer, is what the eff is Riker wearing?
This is what happens when a smoking jacket mates with a Muumuu. 
ALL RIGHT Riker, we get it, you're a 24th century ladies man, but really? Covered in purple silk? What are you, Prince's mattress? I also am not quite sure how you can wear that Starfleet uniform all day and look relatively trim, and then throw this on and look like you're letting yourself go—I feel like Tim Gunn would have something to say about oversize night shirts not being flattering for the silhouette. And what is going on with that collar? Do you guys remember in the early '00s when your Aeropastale's and American Eagle's sold blazers with hoodies sewn into them, except it was just the hood part? This is like they tried to sew the neckline of a sexy robe into a puffy shirt. Lastly, he seems to have yet another over-embroidered neckline (see this shirt from "The Outcast"). I would say they were trying to call attention to his neck, but, like, why?
So Riker is playing a little jazz and asks for a request, and Deanna, in a rare move of dickery, requests a song she knows he can't play. Beverly does a lot of just sitting there and being kind of spacey in this episode, and doesn't comment on Deanna's douchey move, but fortunately (or unfortunately for those of you who like to see Riker fail, I guess), he gets called to the bridge.
Long story short, eight years ago, when Riker was a Lieutenant aboard the Potemkin, he almost didn't make it off this planet because some radiation interference was going to block off the transporters. Riker, Data and Worf beam down to see what's what, and HOLY SHIT YOU GUYS:
DOUBLE RIKERS ALL THE WAY ACROSS THE SKY.
So intense. Turns out, Riker both did and didn't make it off—the transporter somehow duplicated him? Geordi explains it in a way that makes sense. So this other Riker has been stuck on this planet for eight years.
Apparently, even though they didn't have an emergency sewing kit, OtherRiker was able to find a beard trimmer somewhere. Or maybe the phasers have a setting for "burly". 
But he's so gnarly here… let's see what he looks like when he gets cleaned up.
Fortunately, his ability to smolder was not harmed in the accident.
But with two Rikers running around, it can get hard to keep track of who is who. I put together this friendly guide.
Side note: when I was doing Beard Research, I came across this chart of beards, and these two were listed among them:
PRETTY GOOD.
The real problems aren't that, oh shit, this dude has been BY HIMSELF FOR EIGHT YEARS, and then gets rescued ONLY TO FIND OUT THAT NO ONE EVER MISSED HIM BECAUSE THEY THOUGHT HE CAME BACK, no, the real problem is that this Riker still has his eye on a special lady.
Bet you feel real bad for requesting "Nightbird" now, don'cha, Deanna?
Troi tries to put the kaibosh on it—last time they tried, Riker gave up their relationship for his career, and once Rikered, twice shy. But this guy doesn't take "no" for an answer, and so he organizes a romantic treasure hunt around the ship.
If a guy can color coordinate the flower he leaves for you with your lip color, he's probably gay.
The poetry, let me just say, is REALLY BAD, but the whole idea of a treasure hunt through the Enterprise sounds PRETTY RAD, so we'll call it even. The trail ends at Ten Forward:
Judging from the wrapping, I'm fairly sure she's about to get a dozen delicious pears from Harry and David. Or maybe a giant bag of brittle.
That vase for her treasure hunt flower is a nice touch, but again, what straight man would think of that. Actually, now that I look at it, what straight man would put ribbons on a box like that? There must be some snotty subroutine in the Enterprise's computer that knows how to arrange flowers and ribbons. I smell some good fan-fic…
The fact that it's OtherRiker is obvious and a little boring, but what ISN'T boring is the outfit of Guinan's substitute bartender.
Jolly Green Giant Chic
Literally, what is happening on this poor man's body. When I first saw it, I thought that the darker green parts on his arms and sides were actually his skin (I mean, it is SPACE after all), and that he was wearing some sort of skintight muscle-T where the armholes have been cut down almost to the waist. But then, I noticed the stiffness of the arms, and that bulging right shoulder muscle, and I now don't wonder if he's wearing a version of those Super Hero halloween costumes with the fake foam muscles sewn into the fabric. And then that pattern looks like it originally belonged to some linoleum from the discount section of Home Depot. Too bad too, cuz that bartender is CUTE.
Oh, and what's in the box?
This is the part of the castaway story where they show you the thing they spent three years making for you, and you realize it's composed out of their feces or something.
Apparently these are the waterfalls on Risa, where Riker and Troi were supposed to go on (sexy) vacation after he got back from his Potemkin mission. It's supposed to be romantic, but to me it just looks creepy. "These are the waterfalls where I hide all of my victims" is more like it. He says he carved it with a phaser, but can you get that milky-white effect through carving? He did have a lot of time to himself down there, JUST SAYING.
Deanna needs help, so where does the counselor go for counsel?
"Chai tea, Tai-chi."
Actually, they're doing whatever Klingon thing Worf is teaching them, but it's essentially tai-chi. I know that we're always excited to see what Deanna and Beverly wear for their workouts, but this time, they've apparently gone for sweater-bathrobes that look like maybe they're hand knit? Let's see if we can get a better look.
Is it just me, or does it look like her outfit has curdled?
What's really throwing me off is that white stripe on the lapel. Like… is it there just to make sure we don't miss that this outfit is slightly beige? "This is what the outfit could have been… if she'd used Tide with Bleach!"
On the other hand, Bev's hair is looking right, though they had it figured out in Season 6.
Shit, I just figured out Anna covered these exercise outfits in Man of the People, which is one of her best, so open that in another tab and read it as soon as you're done here. (There are Doinger Pants involved). There's also some PRETTY GREAT Bev hair.
Anyway, Deanna is trying to have girl talk with Beverly—which seems to be the only reason these two ever work out together—and then OtherRiker shows up, and Bev is like…
BYEEEEEEEE.
How does Deanna feel about this?
Yikes.
But come on Troi, we know what's going down. Workout uniforms? Alone with a manly man?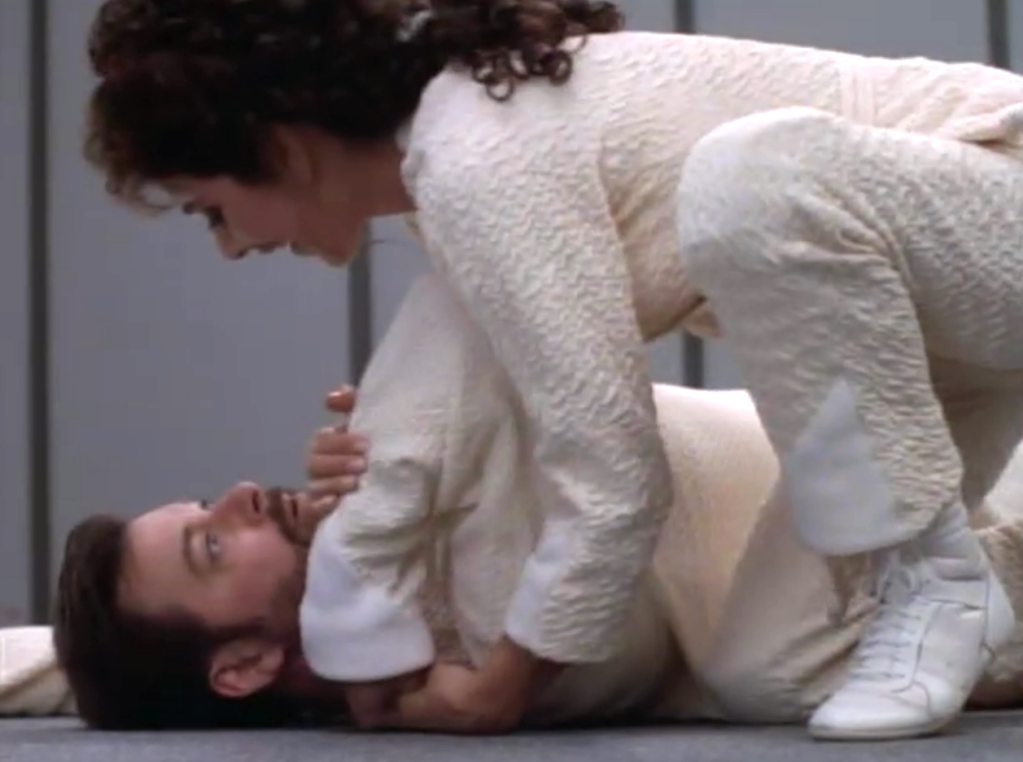 STEP 1: FIGHTING.
Okay, quickly, before step 2, the triangles at the cuffs of the sleeve and the pants make, like, no sense. It's a design element you can barely see (I usually lighten these screengrabs when I upload them—in the episode itself you can't see jack). Those shoes have a Horse Polo sophistication to them, but sneakers and any sort of belted garment don't seem to really make sense. Anyway, we know what's coming next:
STEP 2: SEXY FIGHTING!
Every time we get closer to this fabric, I feel like I know less about it. Was this woven from a bleached doormat? Are these outfits made out of wicker? I give up.
The rest of the plot is a tedious pissing match between the two Rikers, which I suppose is accurate. We get a lot of shots like this:
"No, I'm looking past your face on purpose."
OtherRiker goes over RegularRiker's head (stop going over yourself, stop going over yourself) and anyway, LOTS OF THINGS HAPPEN that leads to the two Rikers needing to cross a PRECARIOUS BRIDGE OVER A CHASM.
Gee, I hope nothing happens to this precarious bri—
Sigh.
We have the obligatory "hanging on for dear life" scene. OtherRiker starts to pull RegularRiker down with him, and OtherRiker actually says "ONE OF US HAS TO SURVIVE".
FRAKTING.
RegularRiker's all like, "No shit, one of us has to survive. Me. I'm the one that has to survive." The episode would have been infinitely more awesome if he'd let him fall, but I guess also not really in keeping with, you know, the whole rest of the series.
So, OtherRiker gets an assignment on another ship, and RegularRiker brings him a going away present.
I WONDER WHAT IT IS.
I think that leather case is pretty classy, though. Possibly the classiest thing that Riker owns? I did find myself wondering whether giving someone a gift like this is totally meaningless in the 24th Century, where you can essentially XEROX OBJECTS. The best though is that OtherRiker has to check and see what it is.
Sorry, looks like it's a trombone, and not the four foot dildo you were expecting.
I think that's as good a place to end as any.