Suspicions - 6.22
We were alerted to this episode by friend of the blog/Canadian/oboist @renegadeoboe, who cited a Ferengi in a non-Ferengi uniform, Guinan, techno-camouflage, and Bev in a mod jumper as reasons to check it out. Obviously, it was moved up to the top of my queue. (And just as an FYI, we're planning on doing every episode, unless we both die in a tragic accident, because if just one of us dies, I assume the other one will stoically soldier on with tears in his/her eyes as he/she types out phrases like "Slammin' Baskets" and "Prince's mattress." That said, if you come across a real good one, holler at us and we might move it up in the rotation. Unless we're dead.)
It opens right up with Guinan, as though to reassure me that, yes, there's gonna be some good shit in this ep:
Don't worry, girl, Guinan and her tackle box of earrings are here
It's like when you go home for [insert holiday] and your mom is wearing that same sweatshirt with kittens on it that she's worn for 20 years and you are like "UGH MOM THAT SWEATSHIRT IS SO STUPID" but really if she wore a different sweatshirt you would feel all out of sorts. That's how I feel about Guinan's hat right now. On the one hand, there are only so many jokes I can make about pizza fitting inside it. Mix it up every now and then. But on the other hand, THAT'S GUINAN'S HAT. Everything's gonna be fine.
Somewhere a Holiday Inn Express is missing its drapes
The rest of her outfit, which matches the hat, obviously, starts with a shoulder cover that appears to have been constructed from a couple of those things you put over the arm of a couch to protect it. It then moves down to: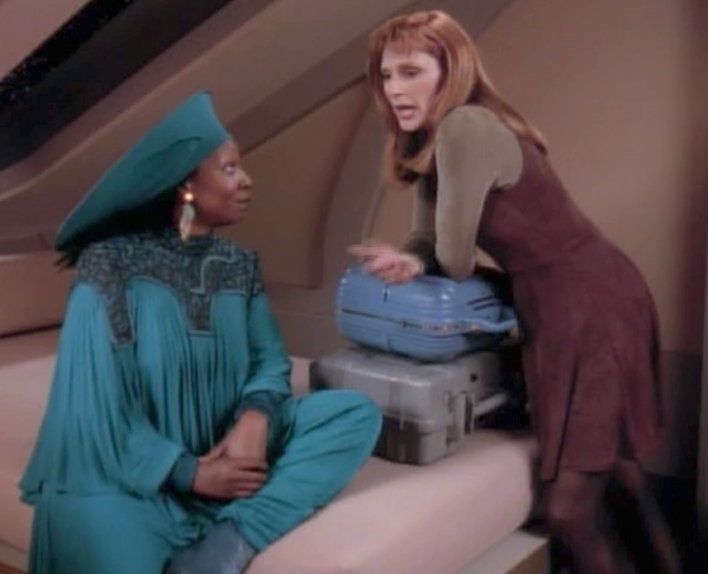 "How much fabric do we have? Just…use all of it"
There is a style of dress called a "trapeze" that has come in and out of style with some regularity since the 1960s. Basically, this dress has a cone shape, with no definition at the waist, and makes anyone with even a semblance of breasts or shoulders look like a brick/linebacker. Being ample of both of those things myself, I don't bother with them, but they can, in fact, look nice. It's just very difficult to make it happen.
This, I believe, may be a trapeze jumpsuit. There is SO much fabric. But you know what? You do you, Guinan. You do you. That shit looks comfy as hell.
But what's going on with Bev?
Slap some roller skates on her and she'll bring ya a root beer
Well, ain't this a sassy little number? The burgundy was an interesting choice for a redhead, but I like it. And the beige sleeves are fine. Fine. But black pantyhose? For a lady with these gams? It's a shame and a travesty, and it doesn't even match right. Maybe if there was a black collar or something to tie it all together, then yes. But this is like when people wear black pants and some blouse with no black in it. That's not an outfit. That's just clothes.
However, this short A-line looks really cute. 
You may be wondering why Bev is out of uniform, and it's because she just dropped a bombshell on G-style here: she is NO LONGER the doctor aboard the Enterprise!! What could have happened to cause this upset? Perhaps a flashback will tell us…
[imagine a .gif here of Wayne and Garth doing the "flashback" fingers. If someone finds/makes one, I'll put it in]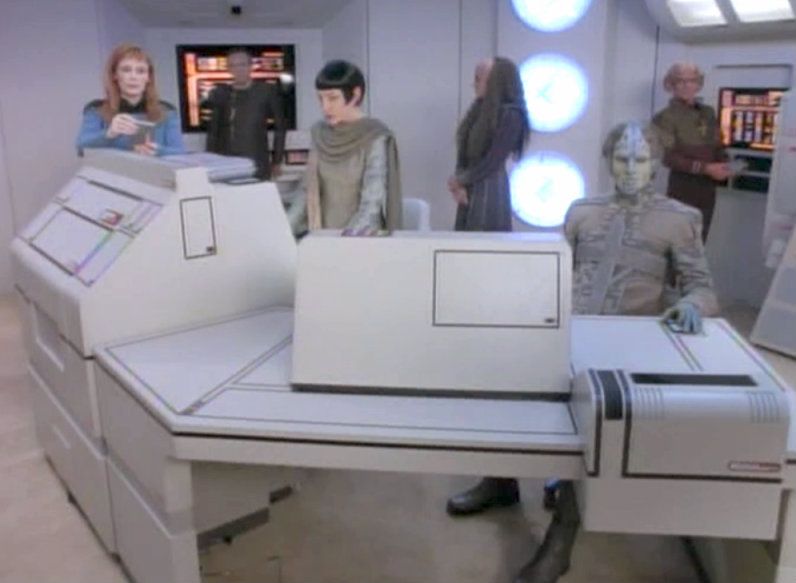 SCIENCE
In the flashback, Bev explains that she invited some scientists to the Enterprise to explore the findings of a Ferengi scientist with regard to metaphasic shielding. Everyone thinks he's kinda crazy, so she only gets four (rather skeptical) scientists to join her:
She's no K'Ehleyr, but who is, really
This Klingon lady has a natural weave and an incredible dress/tunic/cloak that we'll see more of later. For now, let's concentrate on the fact that she is wearing LEOPARD PRINT under that felt collar/breastplate thing. Do they even have leopards in the 24th century? Or is it just like when I wear a shirt with a dinosaur on it?
Can we get Amanda Lepore? No? Okay
Also on board are a Vulcan scientist and her human husband, both wearing long tunics in subtle prints. I think someone visited the Hotel Bedspread Fabric Warehouse before this episode. I'm also particularly interested in the gold accents on the husband back there: what do they symbolize? Is it writing? And were they accomplished with puffy paint?
Edited to add: astute reader/Vulcan anthropologist jurijuri wrote us with this info:
Okay my nerd is going to show here, but the puffy paint symbols on Mr. and Mrs. Scientist in "Suspicions" are a common Vulcan trope.

I like to think of it as them wearing "keep calm and carry on" shirts. They think it's cool, but really everyone is SO OVER THAT. However, fashion is inherently illogical so they don't care. Haters gonna indulge their sub-Vulcan feelings of hatred. *z-snap*
jurijuri, I love, love, love that you referenced those "keep calm and carry on" shirts because they make me so mad but there is something sort of charmingly oblivious about thinking they are cool. Thank you for the awesome link/knowledge (seriously, people, the essay linked up there is great)!

Ronald McDonald is NOT looking so good
Once again: bedspread fabric. And this Takaran scientist has made the bold choice of matching his shirt to his skin, something that seems inadvisable regardless of one's color. I do have to give it up to the wig department, who could have just slapped a one-color, swamp-green wig on him and called it a day. But no: it's like an ombre rainbow all around his head. That is next-level.
And then, of course, we have the Ferengi scientist:
The Ferengi are the only species where scientists are better-dressed than anyone else
The reason everyone is so skeptical about the poor Ferengi scientist is that scientists in the Ferengi culture are a little like really skilled white rappers or squirrels that can jet-ski: they exist, sure, but when you see them, you're a little like "wait…really? Oh, I guess that IS really happening."
This guy, though, knows what he's up against, and has come dressed to impress. The outfit is slightly reminiscent of the Ferengi uniforms - high waistline, strange metal object in the center of the chest - but is in a flattering burgundy/gold color scheme, and with some nice detailing on the sleeves. Dress for the science you want, not the science you have.
Dr. Ferengi has a shuttle that he's modified with a discovery so that it can fly INTO the corona of a star, which is intense/awesome. The assembled scientists ask for a demonstration and the Green Goblin volunteers to fly into the star.
SCIENCE
Unfortunately, the demo does not go as planned and the Jolly Green Giant ends up dead.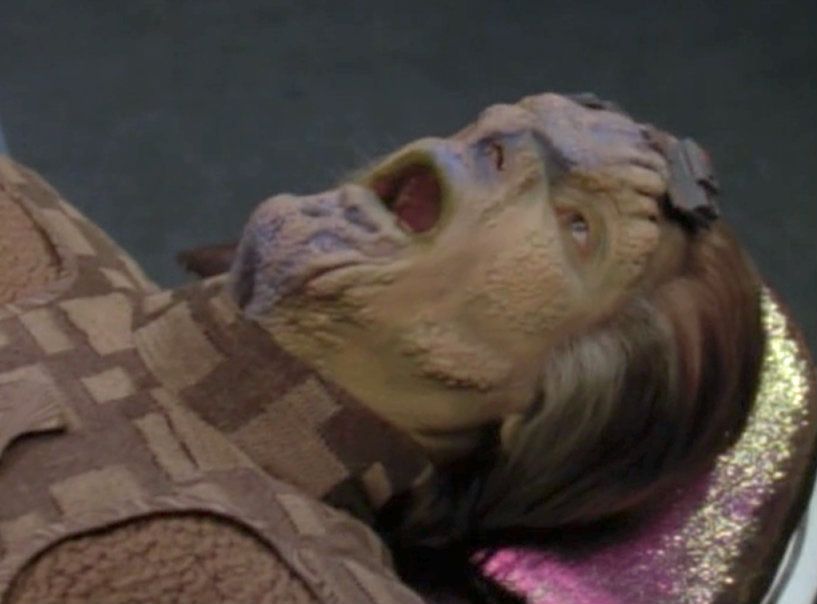 Lay your head on this glitter pillow as you expire
Everyone is all like "it's your fault, Dr. Ferengi!" and he is like "noooooooooo it works!!" and then HE ends up dead, clutching a plasma discharger:
Nails by Beverly
I'm pretty sure Dr. Ferengi is rocking the same mani that FLOTUS was wearing at the DNC.
Beverly is suspicious that someone sabotaged the experiment and killed Dr. Ferengi, but an autopsy cannot be performed before the Ferengis do their rituals. She questions everyone:
Still really wondering about that puffy paint
I sometimes wonder why people in the future don't wear more varying clothes. I get that the crew wears uniforms, sure, but when there are guest stars, they rarely have multiple outfits, even when they are on the ship for several days. Is this a practical consideration or is everyone just boring? (Except Q, who has worn all manner of things, but the mariachi outfit is my favorite.)
I also noticed in this shot that Dr. Vulcan is sporting what I assume is the futuristic progression of the classic Vidal Sassoon cut.
Beverly also questions Dr. Klingon, which isn't the greatest idea:
All up in your face
Her skin looks incredible. I imagine Klingon beauty regimens consist of, like, smearing the entrails of one's vanquished enemies on one's face, then washing it off with fire. But if the results are this good, I'm in.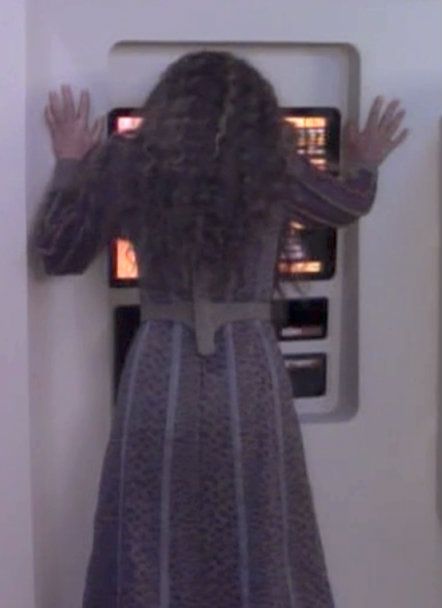 Klingon battle preparation includes pushing a wall over completely
Here's some more of that cloak thing.
Cinch it
We see a lot of Klingon ladies working a jumpsuit, but this is an intellectual Klingon. She can wear something a little less practical. She will, however, still fight you, Bev.
Bev's investigations are going nowhere, so she decides to do an autopsy anyway, Ferengi rituals be damned. Then she basically gets fired. Then, since she's lost everything anyway, she decides to take the shuttle out for a spin herself, to prove that Dr. Ferengi was, in fact, sabotaged:
Bev's lipstick makes me want an apple cider donut
It's nice to know that all this stress has not affected Bev's hair. Still gorgeous. It turns out that the green guy actually DID sabotage the shuttle so he could steal the technology for himself, then killed Dr. Ferengi and faked his own death! He tries to overpower Bev, but she took a self-defense course once:
Just remember to SING: Solar Plexus, Instep, Nose, Groin
Now that Green Goblin is down for the count, we can see that his outfit is not only oddly matched to his skin tone, but also includes a strange loinflap that may or may not serve a purpose, depending on the anatomy of this particular species:
Don't call it a dongflap, it's been here for years
Bev grabs the phaser and takes care of business: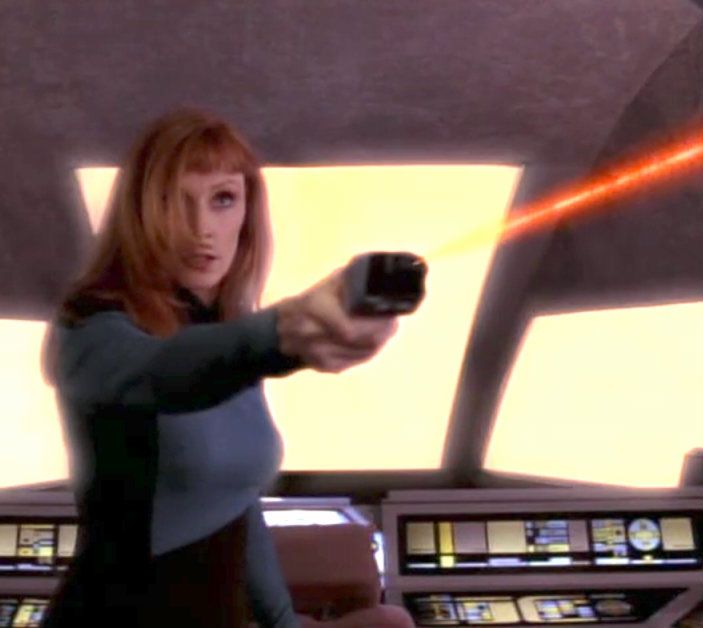 WORK
And I guess the setting between "Stun" and "Kill" is "Death Becomes Her"?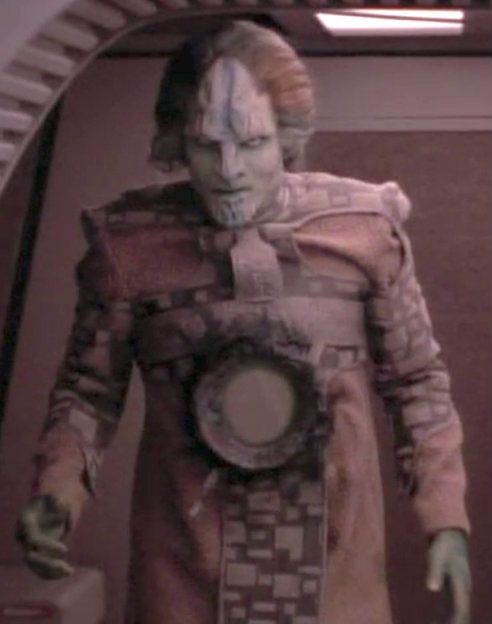 This is actually Goldie Hawn. She wasn't getting a lot of work then
But don't worry, she gets him eventually:
Death Becomes Plasma
Bev returns to the ship, Dr. Ferengi's memory is unshamed, and everything is back to normal. Even Guinan is back behind her counter at Ten-Forward: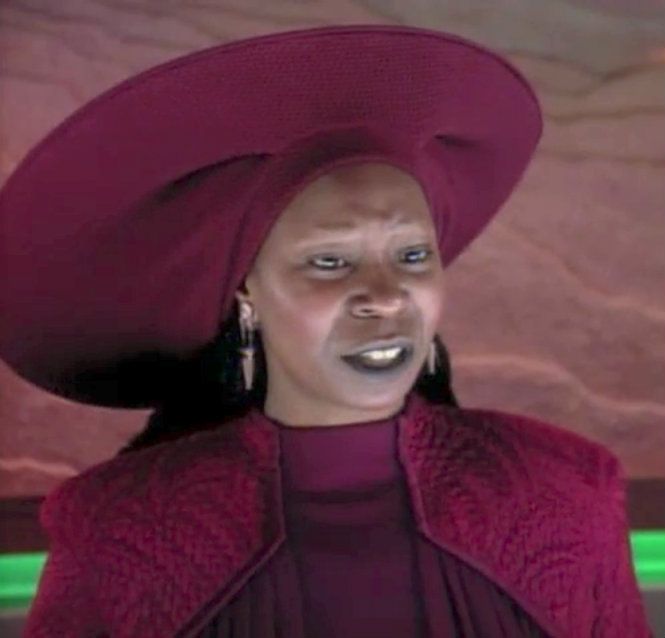 Almost the same…but not quite
See what I mean about the hat? Boring, yet comforting, like watching Law and Order.
A couple loose ends that didn't fit anywhere else: Tracee Lee Cocco appears briefly here with JLP:
Tracee Lee Cocco: Double Letters for Everyone
I didn't need to look up her name. Should I be proud or concerned?
And also I took this screenshot of JLP and made this for you guys. 
Byeeeeeeeee