Ensign Ro - 5.03
Welcome to Fashion It So: Atlanta Layover Edition! It's gonna be great.
One of my favorite recurring characters on TNG has always been Ensign Ro. Michelle Forbes always gives off the vibe that she'd like to kill you if she gave a shit, but she doesn't, so you're fine… for now. 
The episode starts with an admiral who's a douchenozzle—surprise, surprise… the only qualifications for being an Admiral in Starfleet seems to be having strange, inexplicable motivations for horrible ideas. He's wearing a pretty luxurious Admiral ensemble, with a nice Romney 'do.
I feel like he's about to sell me a beeper, or offering me coffee from a basement coffee machine. 
That gold piping is pretty ostentatious. It does not go well with his skin. 
But the guy demands that Ro come on board to deal with some Bajorans, even though she did something REAL BAD and went to PRISON for it. Just how badass is this lady?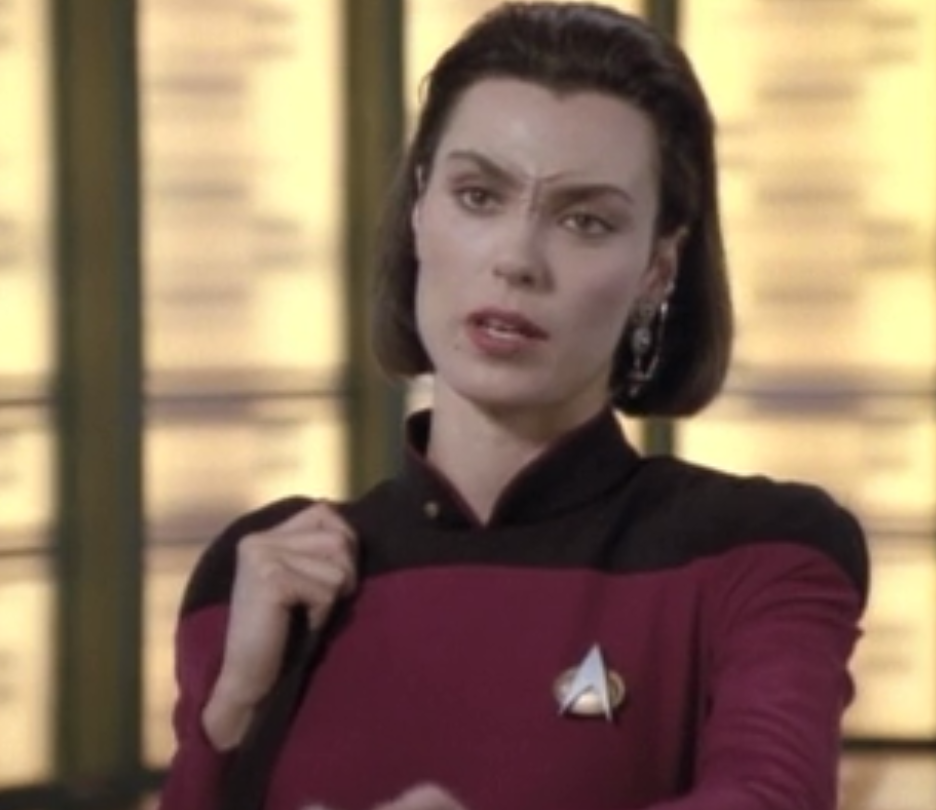 "Looking at you is exhausting." To be fair, she is looking at Riker.
Can we talk about that widow's peak? You could slice your finger open on that. Really, aside from that earring (which we'll get to in a second) , all the fashion here is in the hair. There may be a technical term for what she's doing here, but it sort of seems like a sort of bob-mullet (though, Anna, tell me if I'm off base here). And yet, I get the impression that she's ALL BUSINESS, NO PARTY.
But, ooh, Riker makes her take off her earring, and thus her CULTURAL IDENTITY. How you feel about that, Ro?
"I'm staring off into the distance in order to better imagine ways to kill you."
Would you ask a Ferengi to take off his giant forehead and ears? Or a Romulan to take off her insanely arched eyebrows and heavy brow? Also, Riker, you let Worf parade around with his Miss Klingon sash, so, really, what are you doing here? DON'T BE A BITCH, WILL.
Anyway, they need Ro for some sort of infiltration deallie. They take her down for an away mission, like you do, to a camp of wee little Bajorans, and we get this cutie-pie:
Do-rag and patchwork dress from Gymboree's Street Urchins collection.
Actually, who am I kidding, this is probably already available at Pottery Barn Kids for, like, $150 and is made out of organic hemp and found materials.
Sleeveless dress, you think maybe it's warm out, but apparently not, because Ro gives the girl her jacket.
Wait a second, can we back this up a sec?
Uh, where did that zipper come from? THE FUTURE HAS MAGIC ZIPPERS, GUYS.
Also, what terrible adult is letting a little girl go around in a sleeveless outfit like that when it's so cold?
FASHION BLANKET.
What an asshole. It looks like he's actually wearing two blankets, which makes him even more of an asshole. And whatever that pattern is supposed to be doing to his belly, it's not making it more slimming. I paused to ask Anna if this was a specific fabric pattern:
Charlie:  is there a name for the pattern on this guy's shirt?
 Anna:  hmm
not really
 Charlie:  k.
 Anna:  it looks like a stretched-out chevron
 Charlie:  i know i've seen it
but it might just be like
 Anna:  it is an AMAZING shirt
 Charlie:  crazy chevron stripes
 Anna:  well it's sort of ikat-ish
 Charlie:  more like kit-kat-ish
I'M USING IT
 Anna:  but that's just a technique
HAHA
break ME off a piece
 Charlie:  HAHA
i'm just gonna put this in as-is.
 Anna:  APPROVED
So what else does this guy got?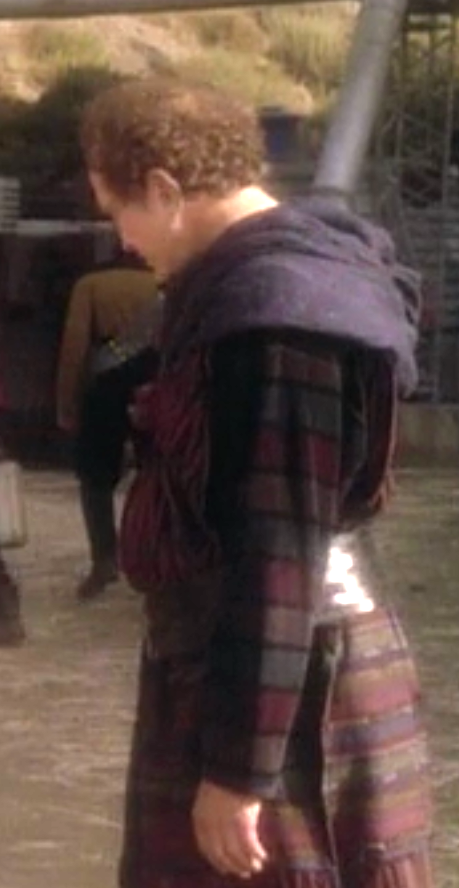 Huh. Apparently he's also getting his wardrobe from Gymboree.
Except for that shiny belt! That looks like it could have easily come out of Anna's closet. Or like, off her wall. Her bedroom is kind of like a boutique. Anyway.
Be for we go too far astray, what does Ro have on her top now that she's essentially taken off what I've long-believed to be the only layer of fabric in the standard Starfleet uniform?
Did you guys know the gun show is in town? Or should I say the phaser show? No, that sounds dumb.
It's nice to think that in the 24th Century, ladies can wear muscle shirts the same as the dudes, though it does still need to end several inches above the navel, so, sorry. Can we talk about the cinched waist here? Those are basically mom-pants for moms with amazing waistlines. Let's get another angle.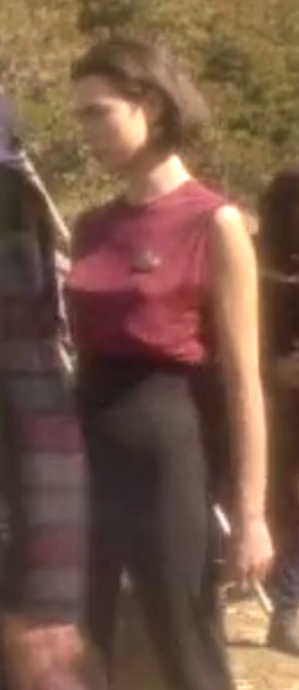 Bang, bang.
Wow, that top is a LOT flowier than'd thought. So basically underneath the uniform they're all swimming in fabric. Also, if any anatomist or physicist wants to explain to me what's happening under her shirt, please do.
There's a plot to this episode, but it doesn't really have much to do with the fashions, so let's just fast forward to the other Bajorans we run into.
Is that Nic Cage? Doing a Stephen Baldwin impression?
Also, grown man wearing a purple handkerchief. Hmm… a people that wear flowwy clothes and carry machine guns? What stereotype might we be indulging here?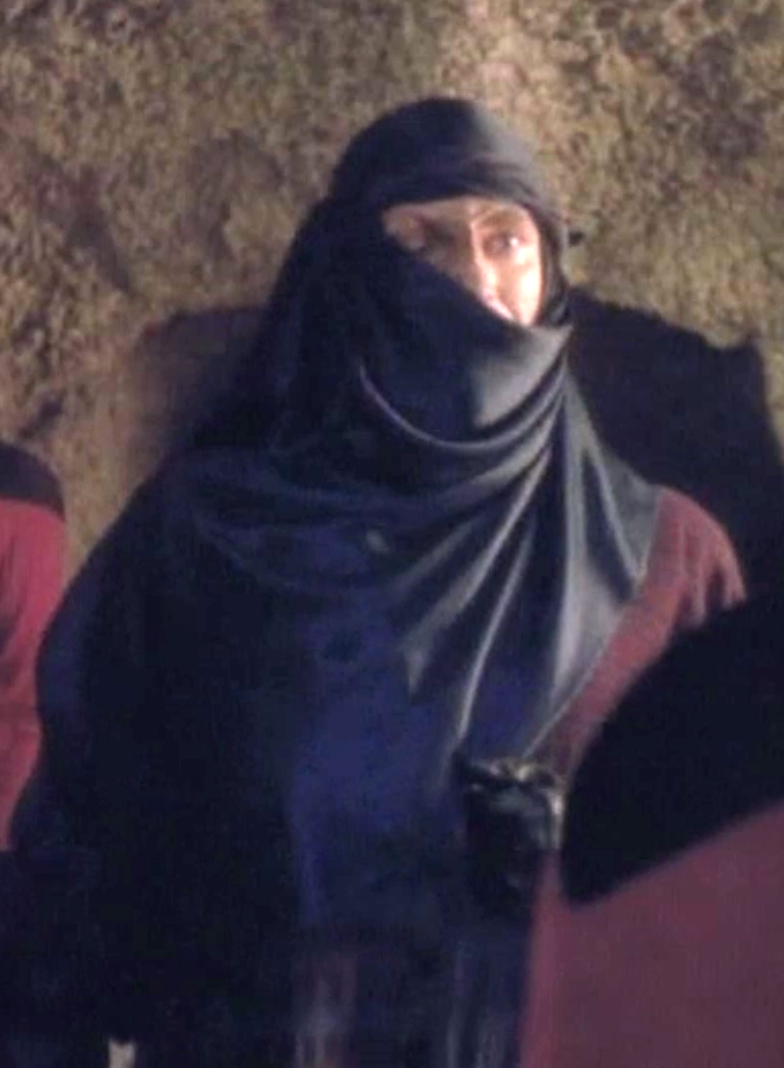 MAN BURKA. MANURKA. MURKA? MANKA? Burko.
I like that the fabric has a deep blue iridescence. I got to see a few burkas in my old neighborhood in Brooklyn, and the thing that always disappointed me was that they were so plain. This puts the allure back in Allah. 
He's probably wearing it for a reason though.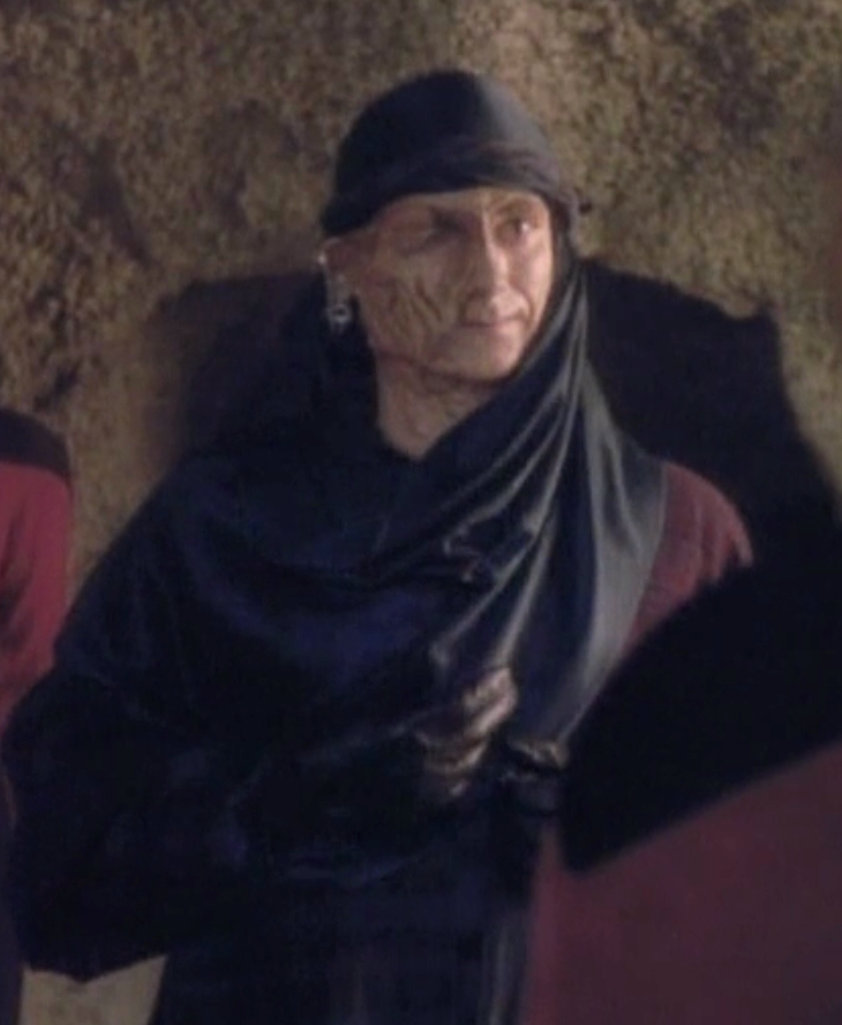 YIKES.
Well at least the blue fabric seems to go well with his yellowing, sallow skin.
There are more Bajoran outfits, but they all basically look like this: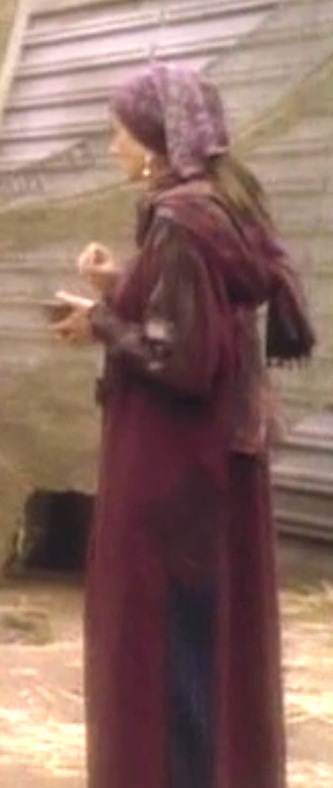 It's like Poland in 1890 if they had a profusion of violet dye.
I think her head wrap is available in the hand-towels section of Kmart. That's all I got.
Of course we know, if we're dealing with Bajorans, we have to have a Cardassian nearby somewhere.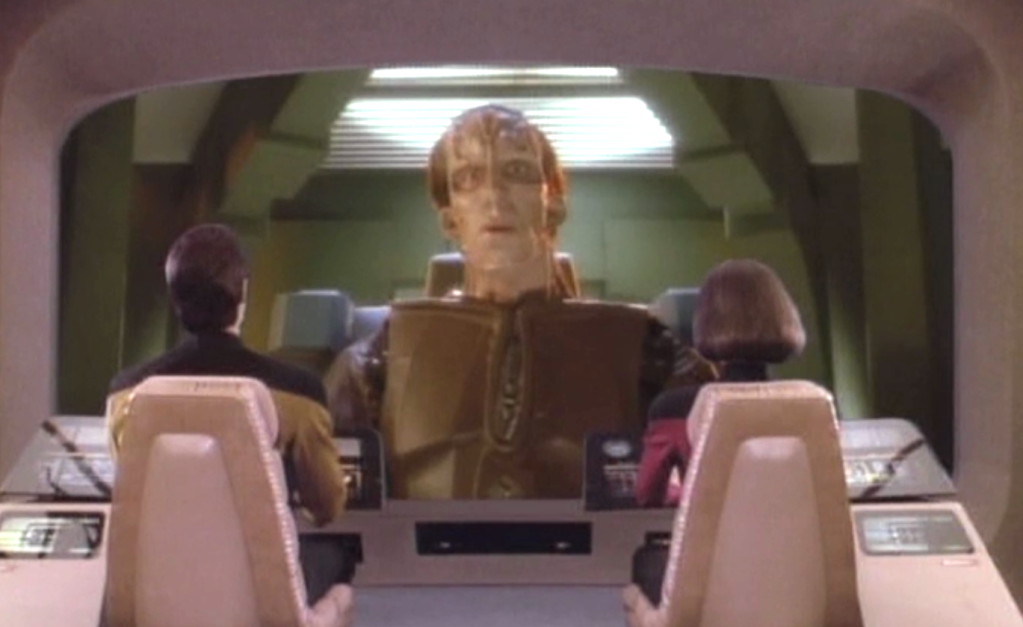 Uh, whoever did this guy's makeup was drunk. His face is lopsided. And not in the way that all God's beautiful creatures are asymmetrical. 
Anna and I watch a lot of Face/Off, and so now I can't look at that guy's uniform and not see Alanna hacking away at some foam with a buzzsaw. (Side note: whose hair is more shiny and solid: Data's or Ro's?)
Can we zoom in on his face a little?
I'm not crazy, right? It's, like, crooked? A face only a Cardassian mother could love.
All right, let's get to why you're really all here. The Fashions of Ten-Forward. Since we KNOW that Guinan will impress, let's start with the drive-bys, since they're usually worth a WTF or two.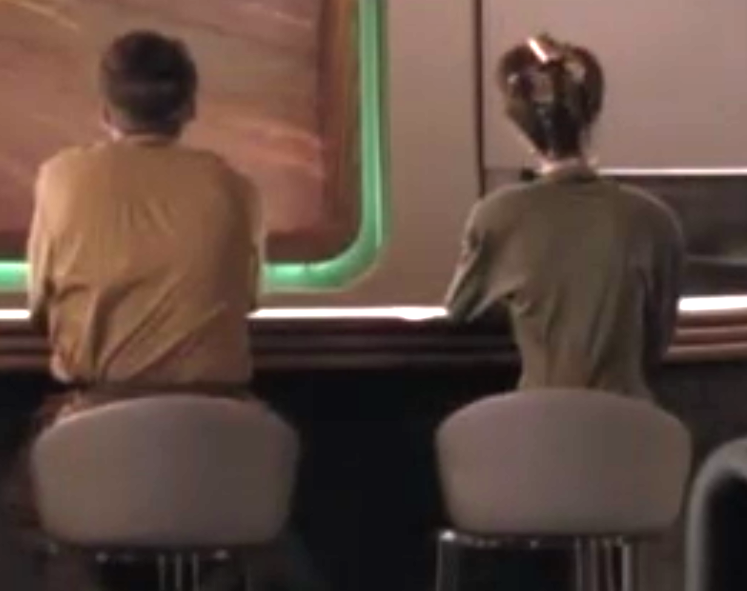 Apparently the extras costume budget doesn't include Bounce.
Literally, these poor two suckers look like they've been vacuu-sealed into their outfits. In colors that can only be described in terms of decayed food, no less (I'm going to go with day-old canteloupe and left-out guacamole). Which is especially a pity for this lady because look at her hair! It's like her hairdo is a Sunday Church hat.
Broken-freezer Mint Chip.
Sigh. I feel like if this was a dress instead of pants it would almost be a look… it's just that all the texture ever in the world vanishes south of the belt. Although, apparently there's a uniform for the Ten-Forward waiters. Go figure.
Do you have this shirt in "dingy"?
I think that's all that needs to be said here. Whenever your drink is more colorful than your outfit, it's usually a conversation stopper. Or maybe that's the slogan for Ten-Forward. "Ten-Forward: where your drink is more colorful than your outfit!"
All right, Whoopi. Let's do this.
So, she has two outfits, a high Guinan and a Low. Low first: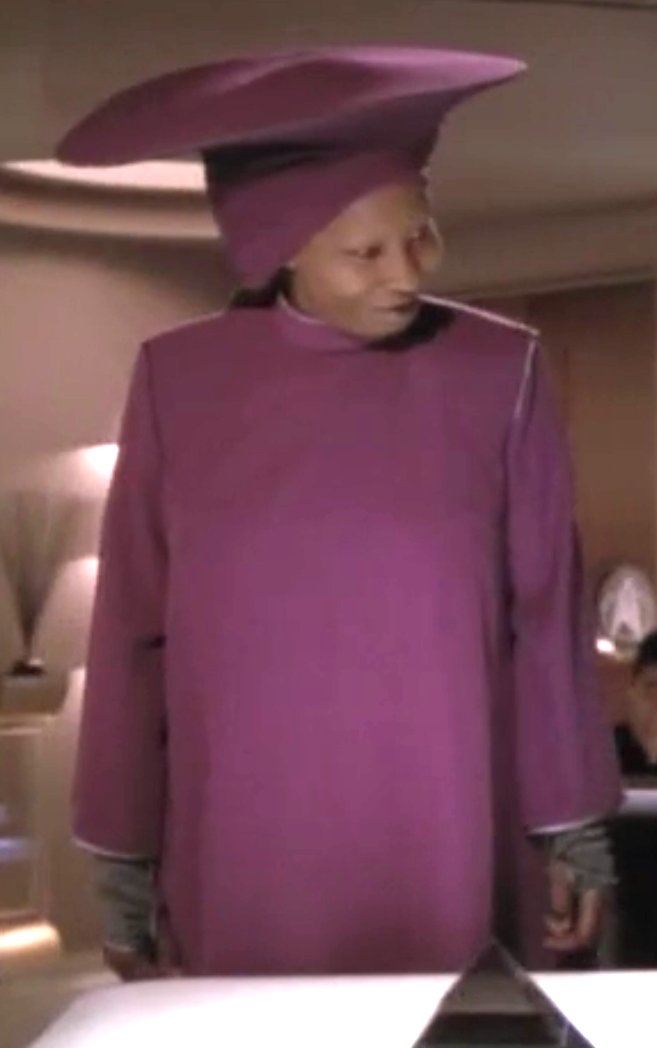 EGGPLANT.
This gives our dear Ms. Goldberg roughly the same silhouette that she enjoyed in Sister Act. What's going on on her hands, though?
I think the homeless lady gloves are going to be a hard sell on the runway. Unless they cost $1500, in which case, they'll be a runaway success.
It sort of looks like all of the texture in her outfit fell into her wrists. Oh well. Come on, Guinan, you have to have something better than that.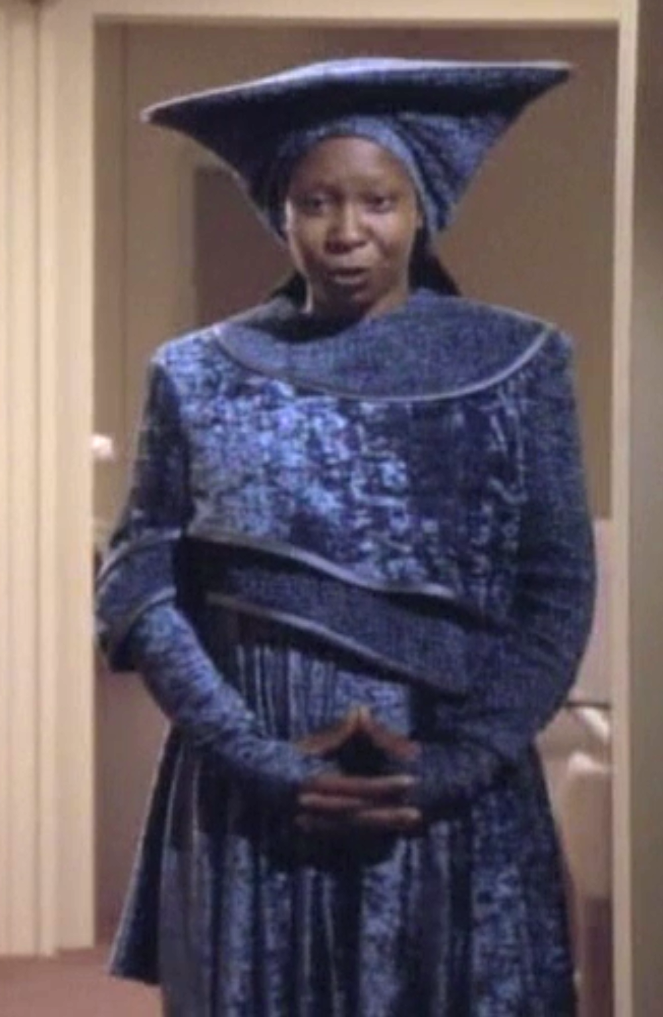 Velour Fantasie in G-sharp.
I just want to take a nap in the folds of that dress. (Side note from Anna: this is totally the same outfit she wore in The Loss in a different color. Or perhaps it's just on a different monitor.) Note, she still has some fingerless gloves… though maybe that helps with putting this outfit on. There's a lot to like here: the texture and color, the way that middle band carries over onto the right sleeve, the off-center collar. Plunge the neckline and lower the skirt and you could see this on the red carpet. Maybe. Okay, maybe not.
All right, they're calling my flight, so I'm OUT!