The Vengeance Factor - 3.9
We were alerted to this episode by a couple different people, so we figured we'd better investigate tout de suite. It opens on a very green, very disheveled-looking lab/place:
The Wizard will see you now
An away team is investigating the lab/place and discovers a couple of dead guys who come from a humanoid species called the Acamarians:
Can you look…more dead? Great
Even in death, these poor bastards can't get sleeves the right length. I do like the Marty McFly-approved quilting on the side of the jacket, though.
So it turns out that these science Acamarians were killed by a group of rogue Acamarians called The Gatherers, who at first I thought were going to be a little Reaver-esque, but they're nowhere near as terrifying. The crew of the Enterprise decides the best thing to do is to tell the leader of the Acamarians that they need to get their shit together and gather up the Gatherers.
Side-eye Lessons with Marouk
This is Marouk, the Acamarian…president? Prime Minister? Sovereign? She's in charge, in any event, which should be obvious from her mastery of side-eye in this photo. Marouk is rocking a mustard that by all rights should look terrible on her with that skin tone, but she has used her diplomatic powers to wrest it into color submission. Also she has fashioned an elaborate brooch out of car parts and bullets.
Promotional consideration provided by French's
Except that brooch isn't a brooch! It's a Miss Acamar sash, criss-crossed with the built-in sash on her dress. Marouk, you don't need that many sashes. Even one is kind of pushing it. That said, I kind of want to get a metal belt and wear it this way? Also her manservant back there is working those slouch pants OUT.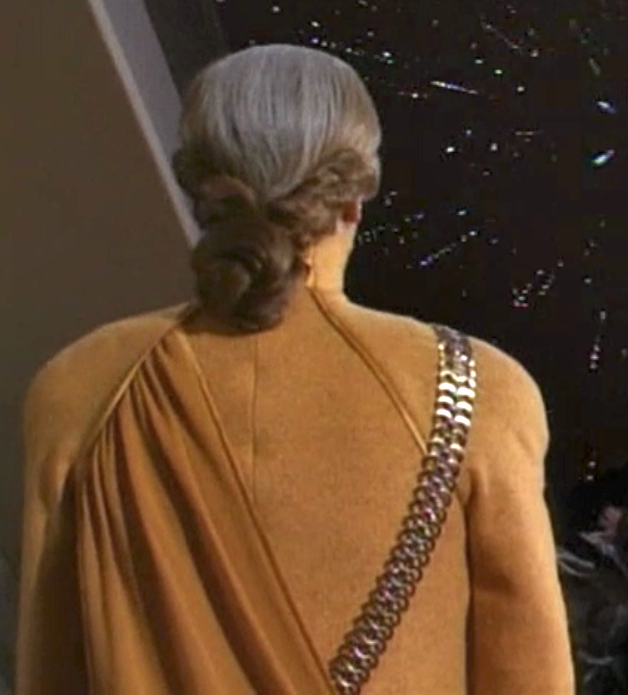 I think I saw that belt at Hot Topic
I didn't notice it so much while the episode was happening, but in this shot it REALLY looks like she greyed her hair with that Halloween spray you buy if you're in college and want to dress as "a GILF" or "Sexy Tommy Lee Jones."
The weirdest part of this episode, besides the FACE TATS that I will address in a second, is that it is really not that hard for Picard to convince Marouk to try to reconcile with the Gatherers. He actually says at one point, "You have nothing to lose, and everything to gain." Actually, they kind of do have something to lose: their society has been peaceful since the Gatherers were ousted. Bringing back the violent influence might fuck it all up again. But Marouk is just like "well, okay."
Before we get to the face tats, we have one other guest star to address: Utah.
Can we get Rachel McAdams? No? Okay
It's actually spelled Yuta, but come on, writers. There are so many permutations of letters to choose from. Don't pick one that makes me think of Mormons. Yuta is wearing a necklace covered in silver macaroni wagon wheels that is illegal in most quadrants due to its potential use as a weapon.
She's super-pretty so obviously Riker zeroes in on her in a sensual way. Never mind that their statures are wildly divergent:
It's a fuel tank for a sex machine
Yuta looks about 20 and acts about 15, but that greige nun's dress she's sporting ups her age level by about 15 years. Also: what happened to princess seams, man? Are those still a thing? I kind of love princess seams.
Yuta does, to her credit, try to jazz up what is basically a nothing-colored bag with princess seams with a couple fun accents: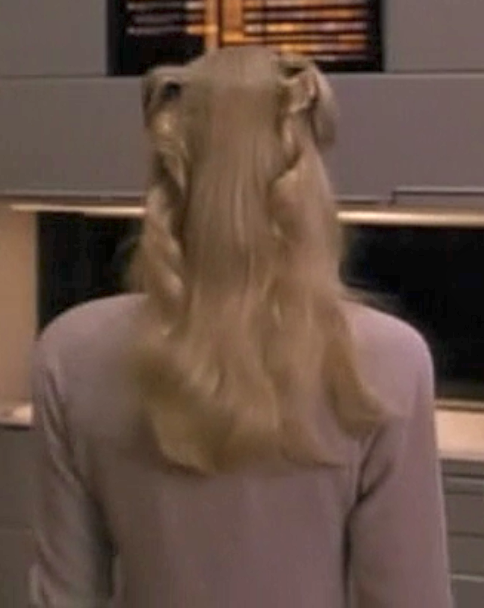 FUN HAIR
It's a little on the girlish side, but at least she's trying.
FUN FACE
I'm not super-clear on whether these are an inborn trait of the Acamarian people or some sort of decorative thing, but it looks like her Bluetooth melted onto her face.
FUN BOOBS
The best accessory. I just had to give the girl credit for still rocking them that hard in such an awful dress.
While Riker is eye-fucking yet another alien, the away team finds a cluster of Gatherers and sets about getting them to chat with Marouk about coming back and being civilized. Again, I'm not SUPER-sure this is the best plan, but Picard seems into it, so…must be ok?
They have a phaser battle on an in-progress RENT set:
I would pay any amount of money to see Data sing "Out Tonight"
And we finally get our first glimpse of the elusive Gatherers: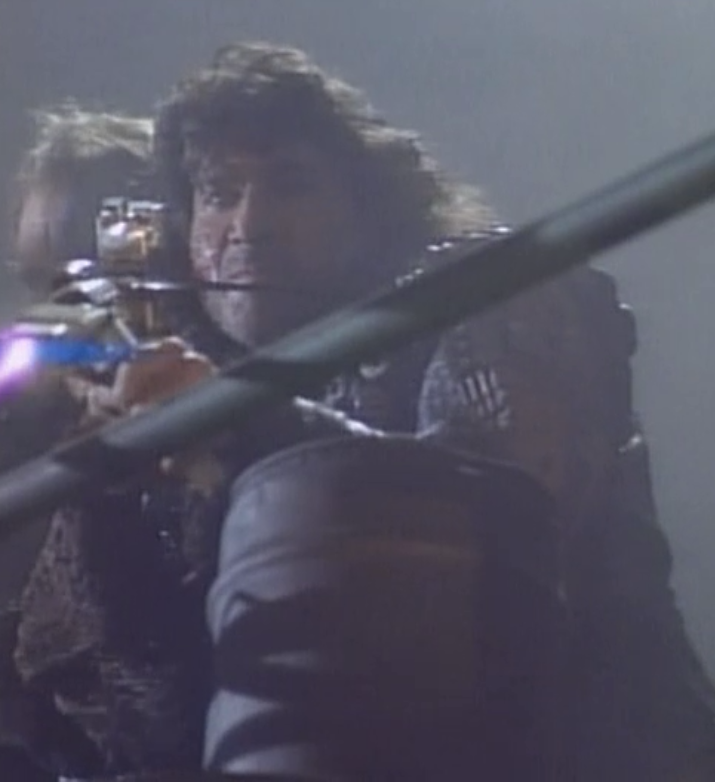 All I can tell right now is that the hair is BAD
Worf captures them, and we get a better look: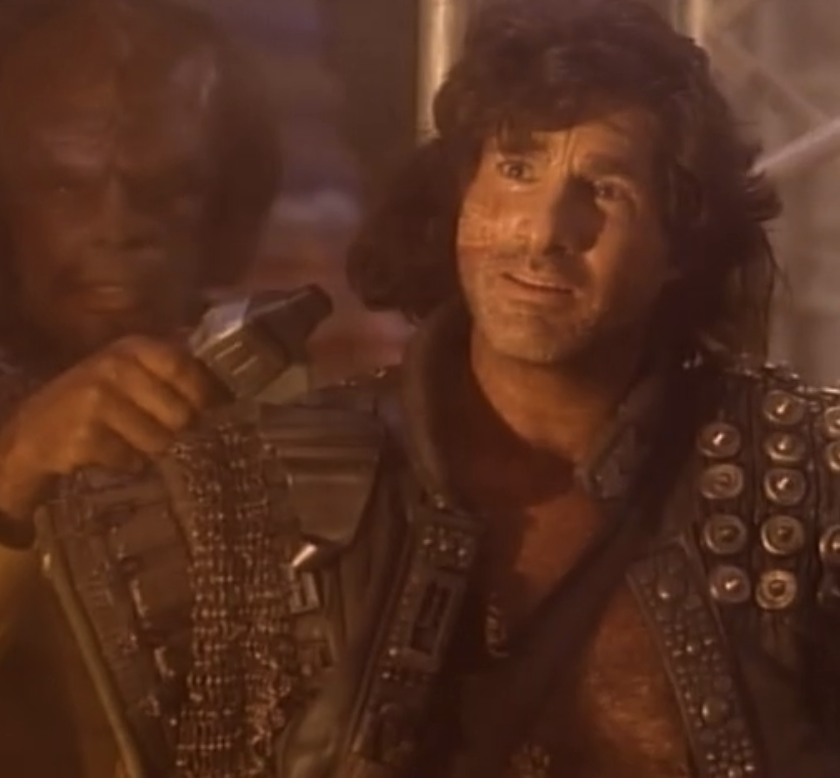 My jacket weighs 400 pounds so I move kinda slow
The hair, seemingly the offspring of Sally Fields' in Steel Magnolias and Richard Dean Anderson in everything, is just the tip of the sartorial iceberg, friends. This guy is working some kitchen-sink STYLE. Sashes for no reason! Snaps that go nowhere! Chain mail???? Tires!!!! I think I see a doorbell on there!
But it's not just Brull (for that is his name, which is pronounced "Brule" except by Picard, who says "Brole" in the same way he says "Lal" differently than everyone else) who is working the "everything, all at once" look:
Mad Maximalism
This is actually kind of a great idea on the part of the costumer. These guys are gatherers, right? So it sort of makes sense that a) they would wear a lot of shit and b) they would want to keep as much stuff on their person as possible since they're nomadic. Sometimes it's not as successful as others, though:
That is just straight up not a hat
Also of note with the Gatherers: they have a penchant for scarification on their faces:
They call me Jiffy Pop Face
This is a nice touch too. These guys are seriously on the fringes of the universe, and I think it makes them more "outsider" looking. Plus all of them look kind of cool in a way, not like that guy who got the ice cream cone on his face.
Okay, maybe not THAT cool
Maybe he thinks the rainbow on his forehead will distract from his receding hairline? It's not working, buddy.
You may have noticed Yuta lurking in the back there with Pyramid Hat, and it turns out that she is using this WHOLE thing as a way to kill the last of some clan as revenge for their massacre of HER clan.
The Conrad Grayson to her Emily Thorne
She touches his face and down he goes, dead. But no one sees it, so it's all very confusing. Everyone is suspicious, and they decide to go back to the Enterprise to discuss things. This, of course, leads to hilarious "fish out of water" type situations involving Brull.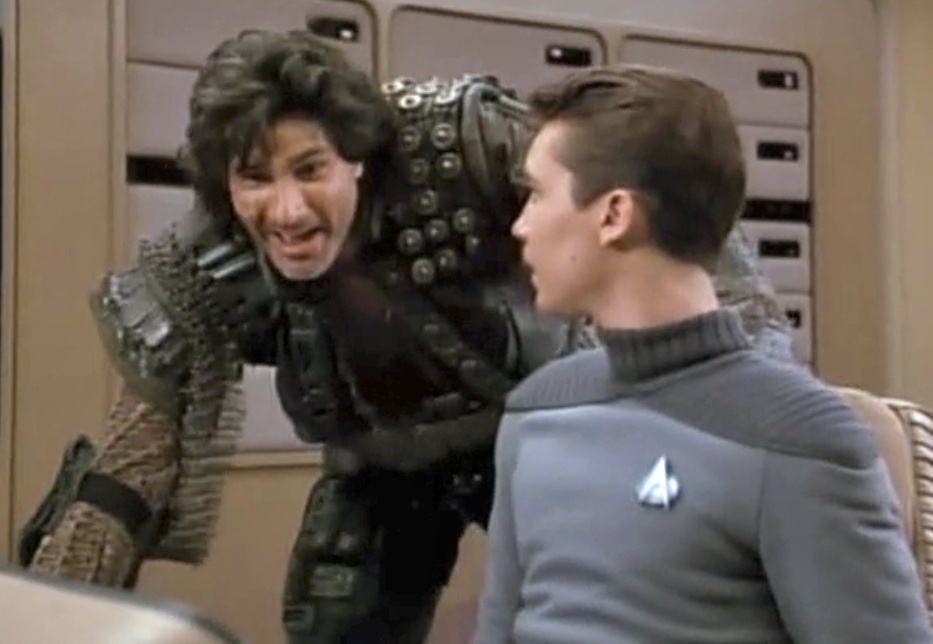 Hey man, let's rap
I just noticed that one of his arms is wrapped in a burlap sack and he appears to have an arm-fanny pack. It's the outfit that keeps on giving. Marouk kicks back with a little space brandy: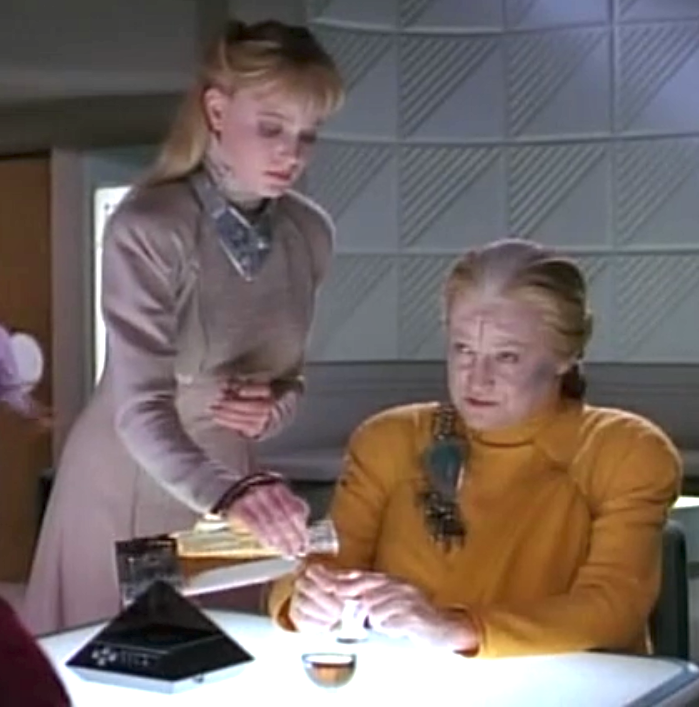 I like my brandy like I like my men: strong and brown
While Brull steals someone's sea breeze from off the bar and chugs it:
Where I come from, this IS a manly drink
He kicks it with Wesley for a second, and says something about how his son is bad at math. Here's where the timeline starts to get muddy: Marouk says the Gatherers have been gone for 100 years, but the whole time, it seems like Brull and his homeboys are the original ones that left Acamar (not born after the Gatherers split). I figured at first that this meant that the life expectancy of Acamarians was just longer than humans, but later it's shown that that's not true, which means that this guy must have been born a Gatherer. So where is this guy's wife? In that Rent junkyard? Were there lady-gatherers? If so, where are they? It's all a little confusing.
While Brull and Wes are having a man-date, Riker is trying to impress Yuta by eating her vegetables (not a euphemism):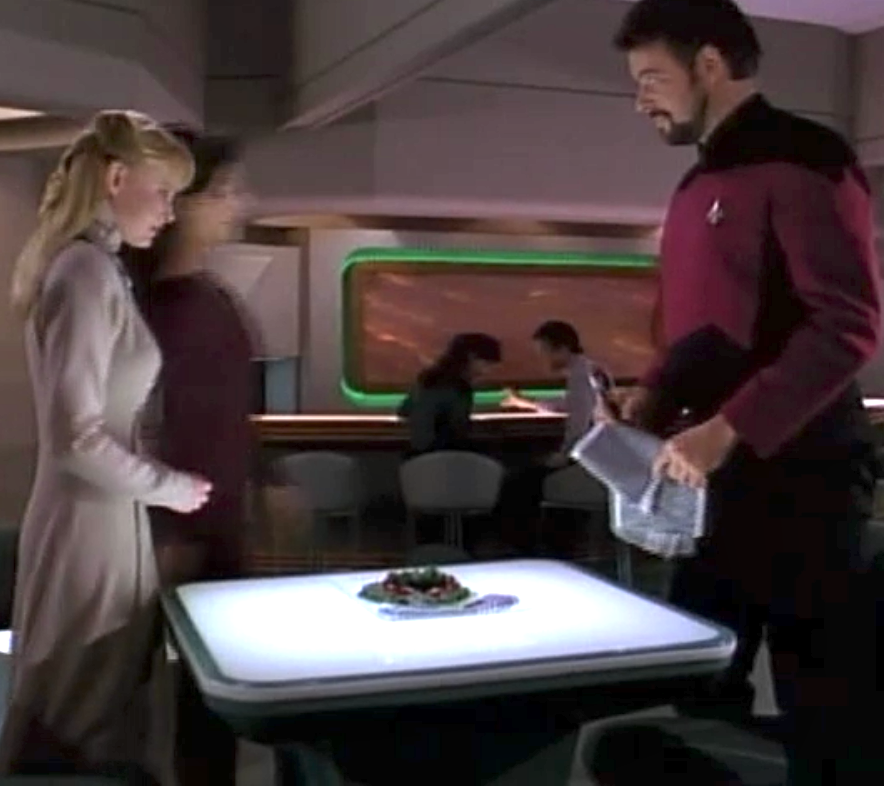 Troi was like "PEACE" - she ain't no cockblock
When the next scene started, I was like "damn, Star Trek, you nasty":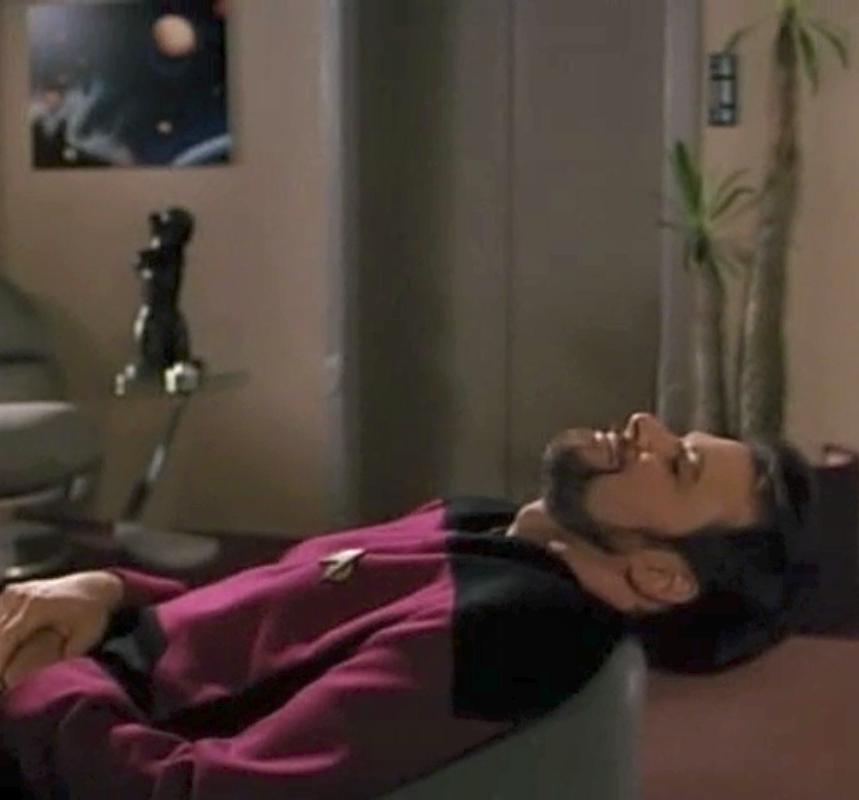 Better than a private fuck-harp concert
But it's not what you think it is. He's just, like, really into reclining? Fortunately Yuta shows up to help him enjoy further: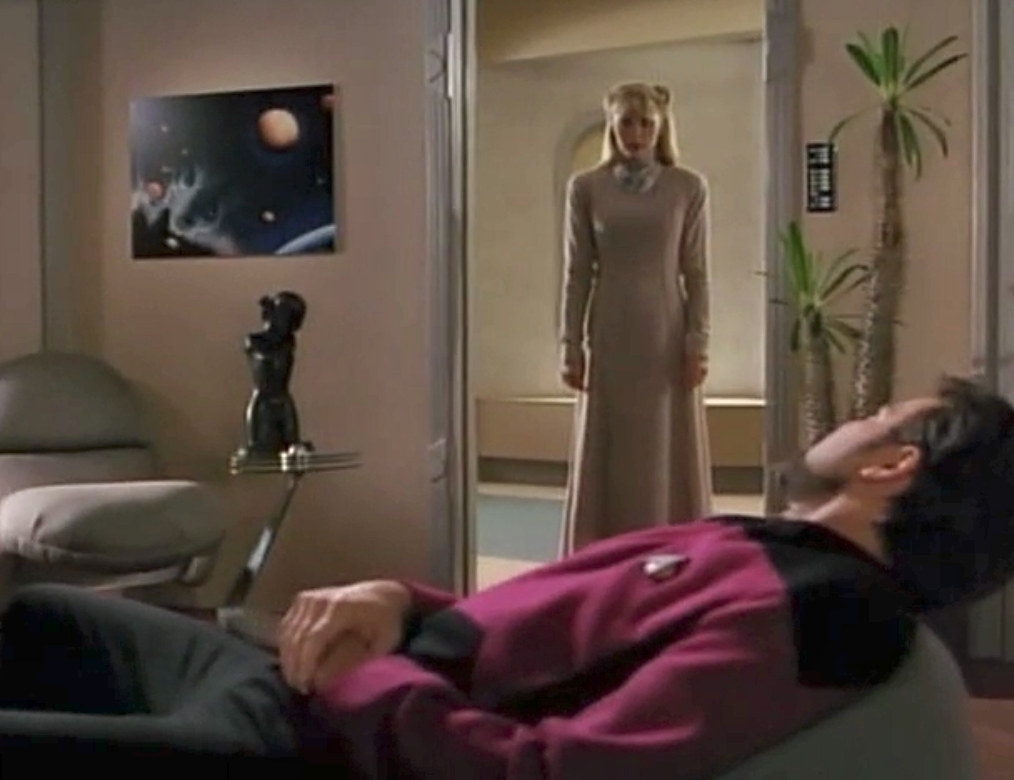 No, don't get up
So Yuta and Riker are clearly heading for the Bone Zone:
Face braid????? Amazing
And this dialogue happens:
Yuta: Tell me what you want, William. I will do anything you wish.
Riker: You've got the night off, remember?
Yuta: I don't understand. You don't want me to give you pleasure?
Riker: Not as a servant. I told you…I prefer equals.
Yuta: Even in matters of love?
Riker: Especially in matters of love.
Yuta: I've offended you.
Riker: No. I only want to make you as happy as you want to make me. You're entitled to that.
I have never heard anything that more ardently argues in favor of Will Riker just loving eating pussy.
So in order for the Gatherers and the Acamarian government to come to an agreement, they need to talk to the head Gatherer, who is played by Donal Logue's long-lost brother:
That is Southern pageant queen hair right there
He is working a face scar like his bros, except his looks a little more mumps-y thatn most: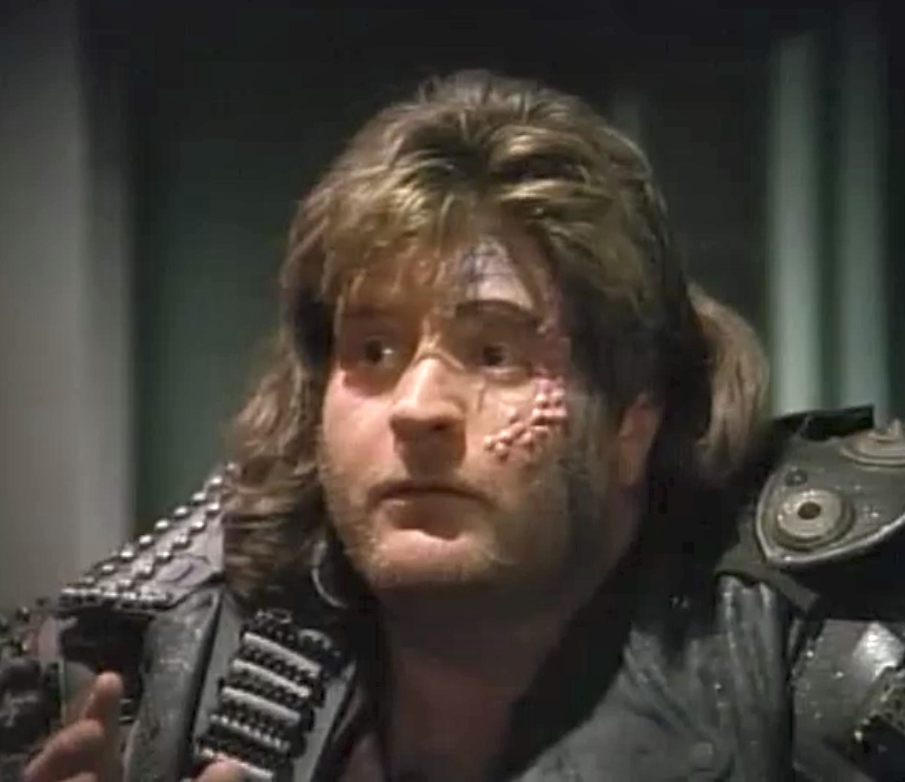 Lovely Lady Mumps
It looks like a bunch of chickpeas got trapped in his face.
Meanwhile, some of the crew are still trying to figure out why the dude that Yuta killed died. They find another sufferer of the same "microvirus" from 50 years ago and discover the war between Yuta's clan and this other clan, and it turns out that Yuta is some sort of freak of nature who has been artificially preserved to finish the task of killing off this other clan. They use a Law and Order "ENHANCE" style photo enhancement to figure it out:
"Enhance" in this context means removing the man in beige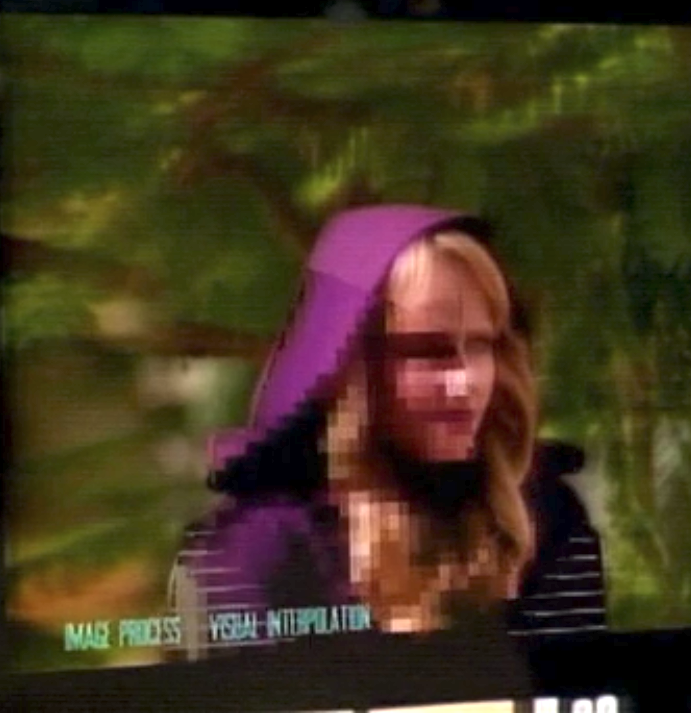 I SAID ENHANCE, NOT DEHANCE
Naomi Watts was held for questioning
So they figure out that Yuta is trying to kill the headGatherer,and she will stop at nothing, and basically this ends up happening:
Shot through the etc.
The weirdest part of this scene is that Picard is sitting right behind her and does not react AT ALL. I learned from my research that this was because of the limitations of the CGI technology they were using to make the shot happen, but it looks like he just does not care that a person has been vaproized (a vengeful, murderous person, but a person nonetheless) right in front of him.
In any event, the Gatherers now trust the Federation because they saved their leader by killing the crazy lady, and all is well. Also this happened earlier but didn't fit anywhere:
Whatchu lookin at girl?!
I thought it might be the same ensign who scooped Riker's junk in the series premiere, but I don't think it actually is. I just like the idea of a randy ensign roaming the Enterprise, taking what she wants like the Honey Badger of space.
p.s. if any of our readers are attending MaxFunCon East, please say hi! I imagine there is some crossover between the circles.