The Measure of a Man - 2.9
This was one of the episodes shown at last Thursday's FATHOM EVENT "A Celebration of Season 2", which - in case you weren't there - was CRAZY FUN. Everyone laughed at Wesley, the bloopers they showed were so funny I cried real tears, and one of my friends tried to get a hot dog but ended up with hot dog sliders, which are apparently a real thing. 
The notable thing about this episode in this format was that it had EXTRA MINUTES that weren't aired originally, but were restored along with the rest of it for the Season Two Blu-ray release. I think it's fair to say that the cuts they made were smart, but it was cool to see the extra scenes.
The other thing about this episode is that it is incredibly boring from a fashion perspective. It's all uniforms plus Guinan. Not a lot going on. But we will see what we can find. I mean, this isn't a terrible way to begin: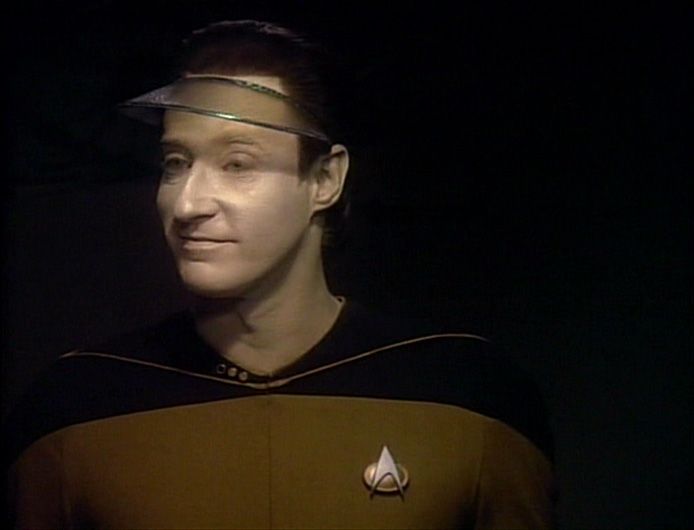 Jaunty
I like Data's commitment to appropriate accessories, and also that he and Scrooge McDuck are the two TV characters referenced on this Wikipedia page.
The nice thing about the two episodes shown on the big screen (this one and Q Who) was that there was a decided lack of this gal:
Bleeeehhhhhhhhh
Get out of here with that AC Slater hair, Pulaski!!
Okay, so the real thing going on this episode is that the Enterprise is kickin' it at a new Starbase, where Picard runs into what the Memory Alpha synopsis calls "a longtime friend":
Friends listen to Endless Love in the dark
Based on the sexual tension their interaction is positively STEEPED in, this is not just a friendship, y'all. They have been to the bone zone and back again FOR SURE. 
What we're going for is Nancy Reagan, but sexy? I hope that makes sense
Captain Phillippa Louvois, as this lady is called, is rocking a cloud of hair that any woman politician would be proud to sport. A little sassy, a little business-y, and a lot of hairspray. She's getting shit done. She is the JAG officer for the new Starbase, a term which always sounds like "jagoff" at first.
The other guests on this episode are also in uniform: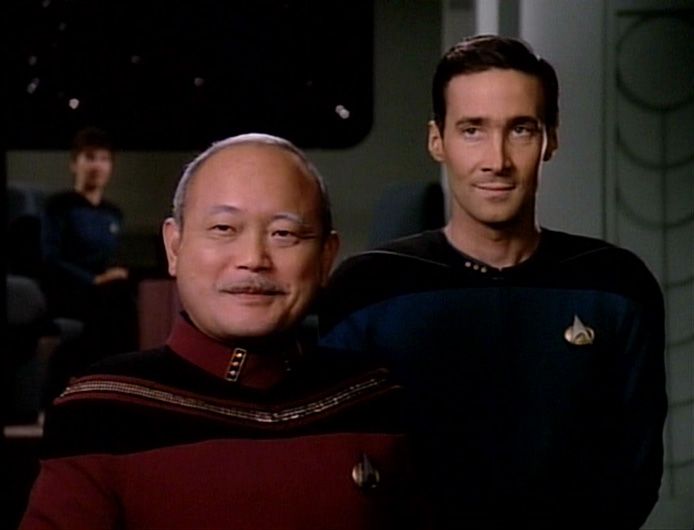 They practiced this facial expression together for hours
Admiral Nakamura, played here by the snowman from Rudolph the Red-Nosed Reindeer, is wearing a FANCY uniform top because he's an admiral. Commander Maddox, a cyberneticist, is wearing blue because of science. Commander Maddox is the villain in this episode, as though you couldn't already tell from his FACE: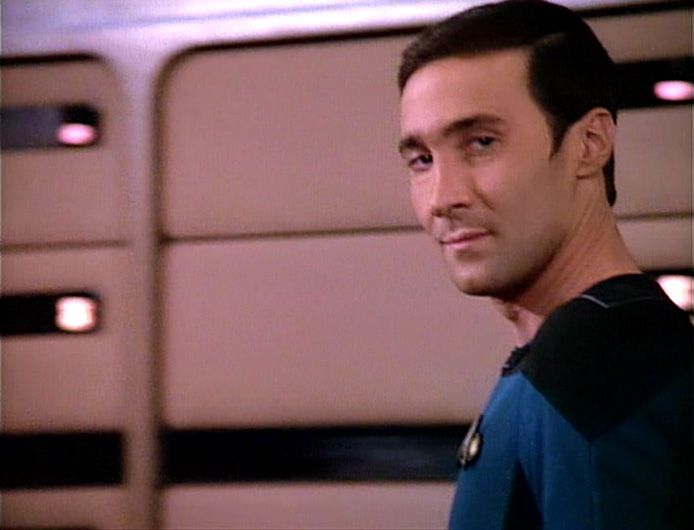 Lee Pace + Pure Evil = this guy
He might be a really nice guy, but there is no getting around that he has a villain's face. He and the guy in this episode could have an evil glare-off. Everyone is very suspicious of him:
He is testing the limits of Picard's brow-furrow
Turns out they SHOULD be suspicious, because he wants to dismantle Data and study him for the purposes of developing more androids just like him. But since this would involve downloading Data's memories and then re-uploading them back to Data later, Data (and everyone else) is not super-into this plan. However, due to some bureaucratic shenanigans, he compels Data to submit, at which point, Data RESIGNS from Starfleet.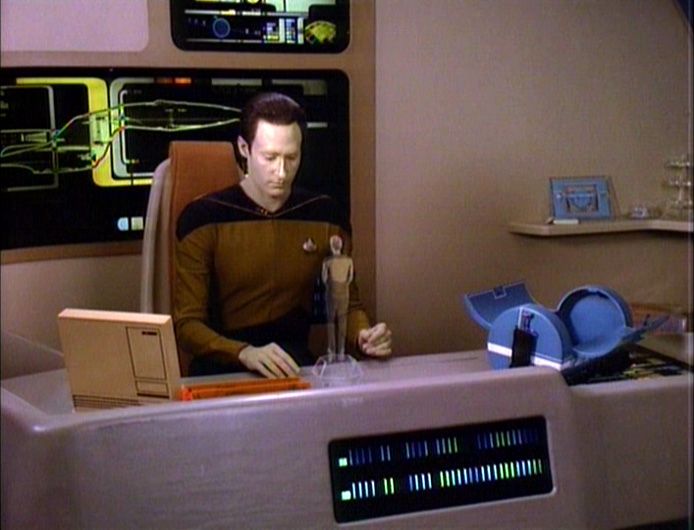 Do androids dream of electric Tasha Yars
There's no fashion in this shot, but LOOK AT THAT BAG. It's like a Caboodles and a duffel bag had a baby, and I want it so bad.
The rest of the episode involves a trial to determine whether Data is a sentient being, which means it basically turns into a George Bernard Shaw play: lots of talking, and very few clothes. Also, this: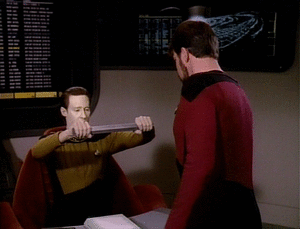 Strong like bull
However, we do get a little bit of fashionaction when Guinan shows up.
Her hat has a secret Braille message embedded in it
I am fairly sure this hat is the hat from this episode in "Dusty Grape Now 'n' Later" instead of "Nerf Orange", but in this episode the top doesn't also have the mumps detailing. I sort of like the mumps on the top as well. Ties it all together.
But yeah, that's pretty much it. Though it was really great when Data was judged to be sentient and everyone in the theater clapped.
There is also a delightful moment at the end where Picard asks Captain Louvois to dinner by shouting, "Phillippa! Dinner." And she is like:
And he is like:
And everyone in the audience was like "YEAHHHH BOYEEEEE"
Screenshots for this episode from trekcore.com!