Gambit I & II - 7.04/7.05
As you may or may not have noticed, we don't do these episodes in any particular order. Sometimes we'll be particularly intrigued by a description on Netflix (or in the old days, surfthechannel), or sometimes someone will give us a hot tip. Our plan is still to do every episode, so if we haven't done your favorite yet, don't fret.
That said, we will take your suggestions under advisement if you holler at us. This double episode was suggested very passionately by Lisa (who, if her email is correct, is a cat lady), as well as Sarah on Twitter, and then by Deborah and Britt in person. It's popular.
Since today (January 8) is David Bowie's birthday, we thought this would be a good one to do. As Lisa puts it "Over the course of the two episodes there is archaeology, Romulans, pain inducing brain implants, and a ship full of bandits who all appear to be taking their fashion cues from David Bowie's various incarnations."
Then she pasted a picture of this guy: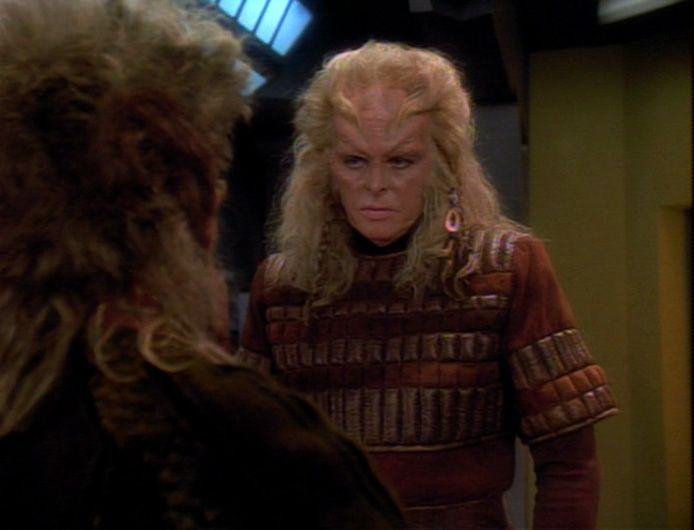 I mean…she ain't wrong.
But let us begin at the beginning, where some sort of undercover operation is under way at a shady, and rather dusty, space dive bar:
More like GROSS Eisley, amirite
The overarching sartorial theme here is biker-chic with a little French Rococo flavor thrown in for good measure. Sons of Anarchy do Moliere, if you will.
Let them eat heart of targ
What I'm really enjoying here is how this lady has matched her nails to her hair.
But what are our intrepid crew up to?
Now playing for The Sacramento Leave It Honeys
Deanna, no one in suspenders should be capable of throwing the amount of shade you are throwing at this moment, but you are pulling it off. This is a nice blue, but suspenders and titties aren't friends. Don't do this again.
Worf thought the color was Blood of Your Enemies but it was actually Cranberry
Meanwhile, these two strapping lads are looking dapper in what appear to be fancy bathrobes in fruit shades. Worf looks very nice in that cranberry, though, and Riker in grape is pretty good too.
But the winner of the Enterprise Undercover Fashion Show is: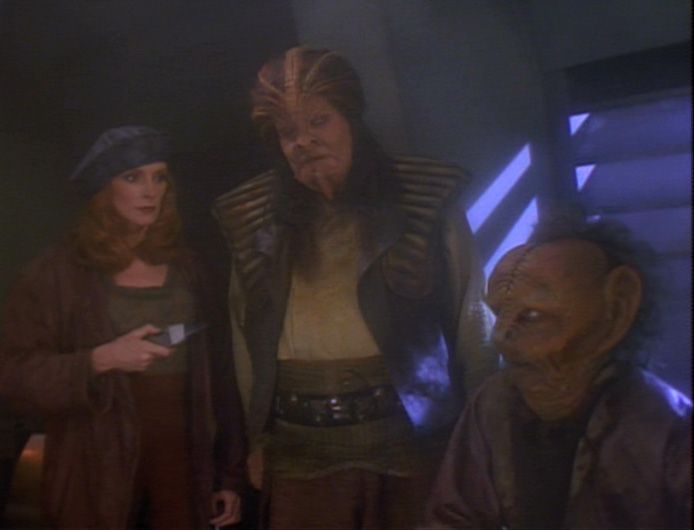 BEV YOU HOT SLUT
No, not that guy in the middle with the catcher's vest vest. It's Bev, serving Bonnie and Clyde realness with a colorblocked theme. TEAL HAT! MAUVE COAT! GREEN TOP! BURNT SIENNA PANTS! She took the color wheel, broke it in half, and devoured it. I mean: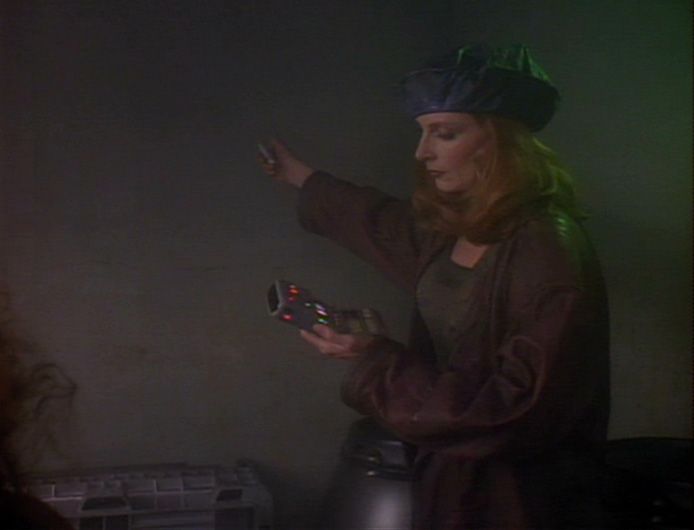 Pretty sure that's a Karl Kani jacket
That is a LEATHER BERET, you guys. A TEAL LEATHER BERET. I'm sorry for yelling, but I want it.
Okay, so the plot here is that everyone is searching for Picard, who mysteriously disappeared while down on this planet. They are questioning this guy:
Can we get John Travolta in Battlefield Earth? No? Okay
Both of these guys look like they could use a facial moisturizer, if nothing else.
They rough him up a little, and he tells them that Picard has been VAPORIZED and is DEAD. But like: did anyone really think he was dead? Even when this first aired? Get real. No way. Not now, not never. Anyway, the CREW all believes he's dead, everyone goes back to the ship, despondent and unmoored like a dog on a raft.
FRAKTING
There is a really dumb scene between Riker and Troi about how Picard is dead and Riker's actual line here is "I have an open wound. Right here, it hurts like hell. I don't want it to get better, and I don't want to pretend that everything's all right." He will never rest until JUSTICE is found for Picard. So Ensign Sondra Huxtable sets a course for a planet where they will find the justice: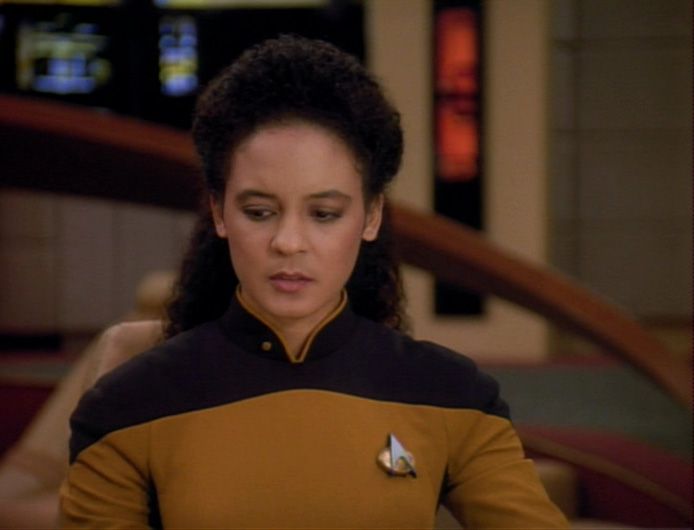 I wish Wesley was here…I always liked his sweaters
I am going to take this as proof that The Cosby Show and TNG take place in the same universe, and that Rudy was friends with Zefram Cochran. (She will be/would have been 84 on First Contact Day.)
They get to the planet where they think the people responsible for Picard's death are, and Riker and Geordi investigate by posing real hard: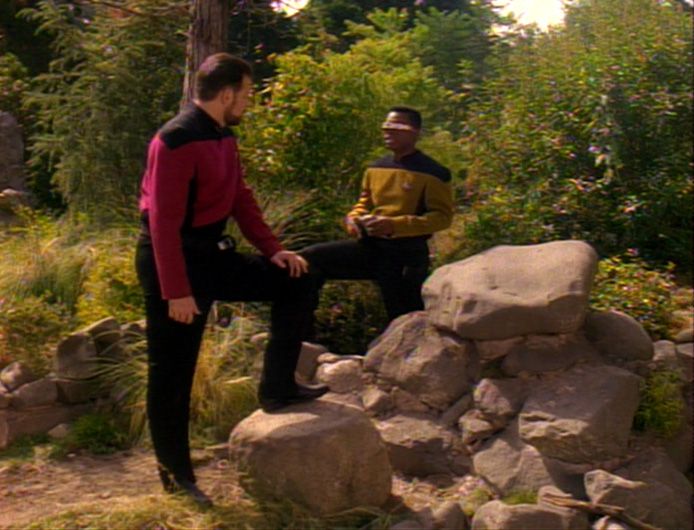 I like this stance because it really highlights my manhood
While they are practicing for the upcoming issue of Fantastic Man, they are ambushed by a group of mercenaries, a motley band of rogues held together only by their desire for wealth and their loose interpretation of space law.
Also their love of jumpsuits
Gene Roddenberry said there would never be space pirates on this show, but guys…this seems PRETTY MUCH like space pirates. (There is some good stuff regarding this on the Memory Alpha page of this episode.)
The space pirates kidnap Riker and take him to their leader, Labyrinth Bowie: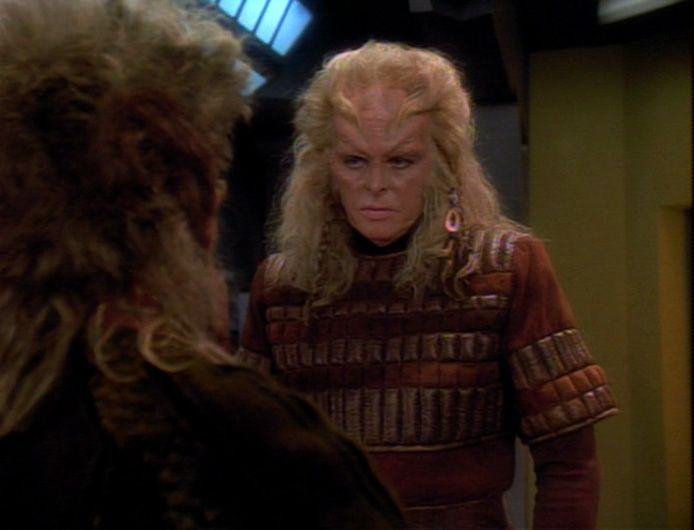 I couldn't find the right coat so I made one out of caramels
I don't know if those are eyebrows or part of his hair, but he needs to get together with those guys from the space dive bar and have a spa day. Gurl your hair look drier than my panties at a Justin Bieber concert. BUT I will give it up for that top. The color family looks nice on him, and the quilting design makes me think of candy.
His underling, however, is desperately trying to be Labyrinth Bowie and failing:
One time I saw my captain wearing army pants and flip flops so I bought army pants and flip flops
The hair is too high, there is a goatee where no goatee should be, and are you wearing a top made of a drum blanket? No wonder you're not in charge. Also on crew we have Ziggy Stardust Bowie: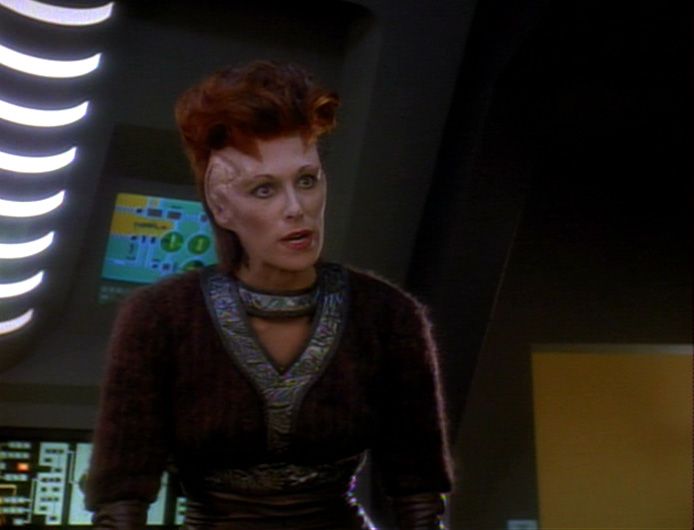 Somehow she has out-Bowied Bowie
Okay. This outfit involves an angora sweater trimmed with some ribbon one might find on a dirndl dress, over what appears to be a plum-colored leather jumpsuit, all topped with the highest Ziggy Stardust mullet this side of the Delta Quadrant. This. Bitch. Is. Fierce.
Rounding out the crew we have self-titled Bowie: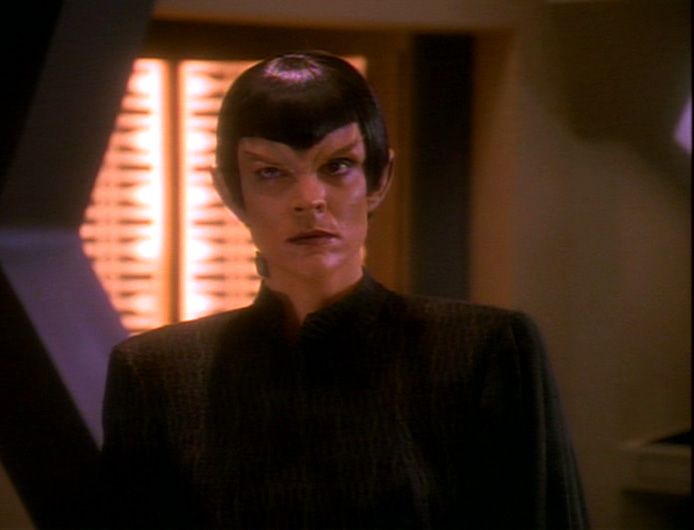 Did Bowie have a Vulcan phase? Probably
This one is admittedly kind of a stretch, but hear me out. Check out Bowie's debut album from 1967:
Severe, geometric hairstyle? Check. Monochromatic clothing in a stiff, unforgiving fabric? Check. Finely-sculpted eyebrows? Check. Skin like a baby's? Check. She's a brunette and he's a blond, but this Vulcan hottie is totally David Bowie Bowie.
But wait! There's one more crew member!
OHHHHHHHHHHH SHIIIIIIIIIIIIIIIIIT
It appears that Picard (who is calling himself Galen and is totally not dead) missed the David Bowie memo and is dressed rather as some sort of futuristic JIM Bowie, inventor of the knife of the same name. Or, as Lisa pointed out, he is just repurposing his Qpid costume but with more diagonal belts.
One thing to know about these pirates is that the leader keeps them in check with a neural pain implant that he can use whenever they're being insubordinate. Not the most legitimate leadership strategy, but certainly an effective one.
MORE FRAKTING
At some point, Picard and Riker get a moment alone to fill each other in. To keep their cover, they frequently have to act like they hate each other, which is enjoyable, and then Picard punches Riker right in his be-bearded face: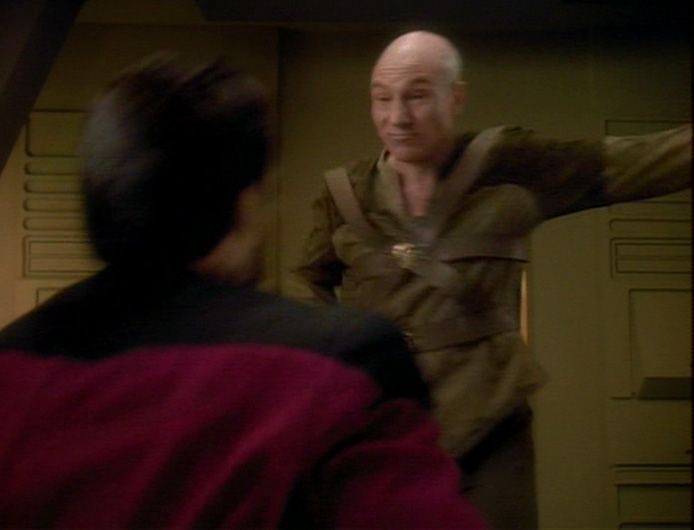 Backhanded
Then there is a lot of subterfuge and sabotage and crossing and double-crossing and possibly triple-crossing and there are secret plans and Deanna is concerned about ALL of it:
Concerned, always
Riker suggests to Captain Labyrinth Bowie that they make some sort of double-cross deal: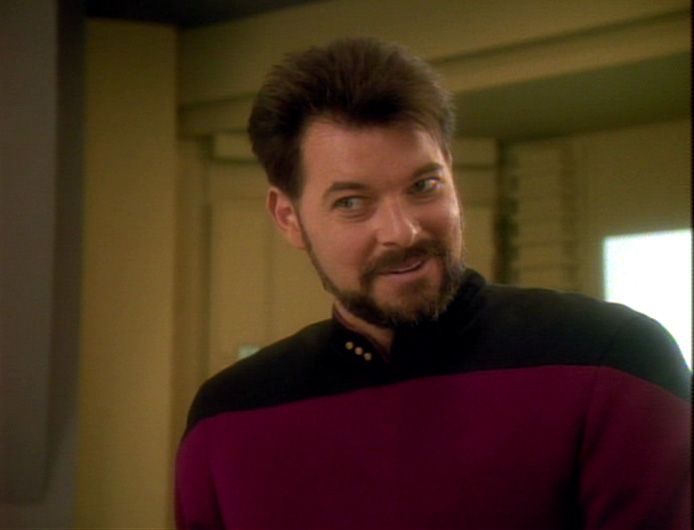 Riker's impish face has gotten him more than his fair share of "deals"
And it ends with them making more than just a deal!!!!
Space beej
Haha, no it doesn't. Riker would never blow a dude with hair that dry.
Okay, so the space pirates are looking for some artifacts, and one of them is being carted around by the TALLEST KLINGON IN THE LAND:
He is both a little bit taller and also literally a baller
Ladies and gentlemen, professional basketball man James Worthy!!! Considering this guy is some sort of freelance pirate, he's pretty stylin' here. Everything is very well-thought-out, with the boots complementing everything nicely, and it all fits well. The pieced-together look is nice on him:
This fabric was inspired by mold
However, he is still a Klingon, and not terribly schooled in social niceties, so when the crew offers him Klingon bloodwine, he is less than grateful: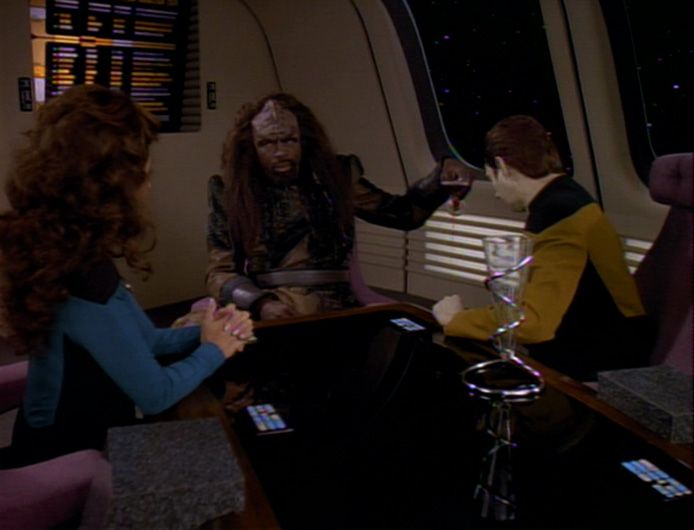 Pour one out for the Klingon empire
The reason he's on the Enterprise at all is that the crew still on board has figured out that the space pirates are looking for the artifact he's carrying, so eventually they show back up with Riker and Picard, and Picard "kills" Riker so he can escape the pirates.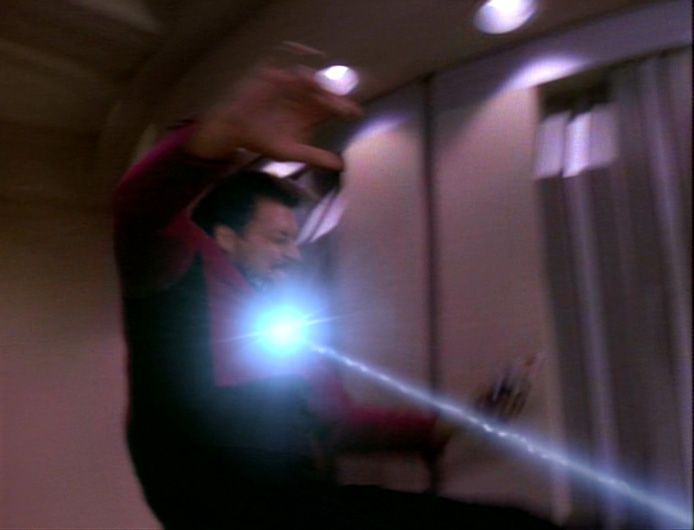 Ya burnt
There's a LOT of plot here that I won't get into, but basically it turns out that the Vulcan lady pirate is part of some sort of Vulcan isolationist sect and is trying to find this crazy mind weapon that is composed of the artifacts they've been collecting, so the Enterprise calls up Vulcan to warn them: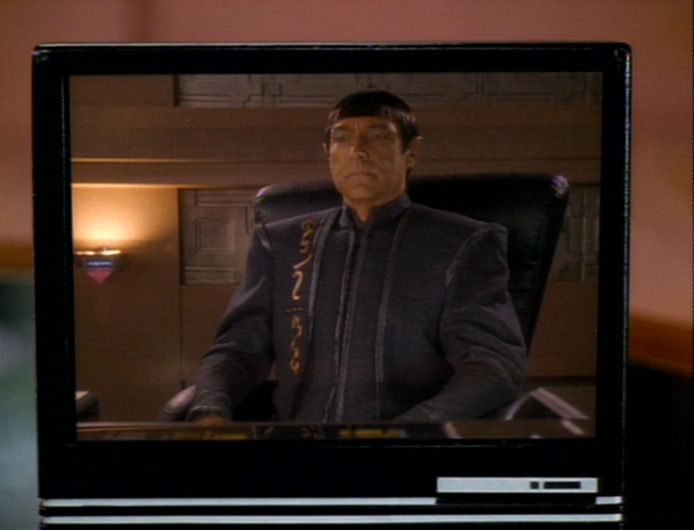 Hair by Lloyd from Dumb and Dumber
The Vulcan puffy paint symbols that jurijuri explained to us in Suspicions are back, this time on a less exciting jacket that I am SURE he got as part of a 2-for-1 deal at Vulcan's Wearhouse. You're gonna like the way you look; anything else would be illogical.
Eventually she does put together the mind weapon and uses it on someone:
Hungry eyes? Or crazy eyes? Or both
This is what it looks like when the mind weapon kills you:
Ow, telepathy
But this is what it looks like when you figure out that the mind weapon can be defeated by…thinking peaceful thoughts??? This is some straight stay-puft marshmallow man shit up in here.
Riker is really more of a Venkman than a Ray though
In the end, they defeat the mind weapon with peace in their hearts, and return to the Enterprise, where Picard is still technically dead, and Riker is technically a renegade, so Data is in charge of the ship, and puts Riker in the brig because androids don't get humor, except for that time Data hung out with Joe Piscopo.
Where's your impish face NOW Riker
Thank you trekcore.com for the screencaps!